Kotug Smit Towage Performs Naming Ceremony for Two Damen Tugs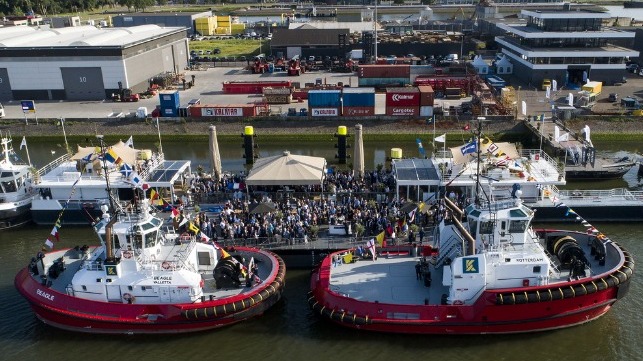 On June 13, the naming ceremony of the newly-built Damen tugs Rotterdam and Beagle took place in the Port of Rotterdam during Kotug Smit Towage's annual 'Maatjes-party' (herring with friends, a traditional Dutch event to mark the beginning of the herring season).
During 2017 and 2018, Kotug Smit Towage has taken four newly-built Damen tugs into service for its European harbour towage activities. Two of this quartet, the Rotterdam and Beagle, are currently operating in the Port of Rotterdam.
The Rotterdam is an ASD Tug 2913 and has a bollard pull in excess of 80 tonnes. The tug is renowned for its manoeuvrability and environmentally efficient performance. The naming ceremony of Rotterdam was performed by Lady Sponsor Ms Janet van Bergen, the partner of Captain Tjitte de Groot, President of the Regional Pilots' Corporation Rotterdam-Rijnmond.
The Beagle is an ATD Tug 2412 Twin Fin. With her 72 tonne bollard pull, she combines compactness with manoeuvrability. The naming ceremony of Beagle was performed by Lady Sponsor Ms Renee Naaktgeboren. In 2017, Renee received the Young Port Talent award in Rotterdam. This award is intended for committed and talented young people between 20 and 30 years of age, who work in the Port of Rotterdam with passion and enthusiastic drive.
Kotug Smit Towage's CEO René Raaijmakers: "The presence of over 550 guests from the maritime community who attended our annual 'Maatjes-party', made this day extra special and enjoyable. It proves that towage is all about people. The event was held at the premises of Kotug Smit Towage's Mate of the Year 'Diving & Salvage Company W. Smit' in Rotterdam, which was ideal for the occasion. We are grateful for the commitment of both Lady Sponsors".
Damen's Area Director Benelux, Mijndert Wiesenekker stated: "The Maatjes party is a great event for the complete Rotterdam Port community and we are happy that our continuing successful relationship with Kotug Smit saw another milestone today with the naming of the Beagle and the Rotterdam."
About Damen Shipyards Group
Damen Shipyards Group operates 34 shipbuilding and repair yards, employing 10,000 people worldwide. Damen has delivered more than 6,000 vessels in more than 100 countries and delivers some 160 vessels annually to customers worldwide. Based on its unique, standardised ship-design concept Damen is able to guarantee consistent quality.
Damen's focus on standardisation, modular construction and keeping vessels in stock leads to short delivery times, low 'total cost of ownership', high resale values and reliable performance. Furthermore, Damen vessels are based on thorough R&D and proven technology.
Damen offers a wide range of products, including tugs, workboats, naval and patrol vessels, high speed craft, cargo vessels, dredgers, vessels for the offshore industry, ferries, pontoons and superyachts.
For nearly all vessel types Damen offers a broad range of services, including maintenance, spare parts delivery, training and the transfer of (shipbuilding) know-how. Damen also offers a variety of marine components, such as nozzles, rudders, anchors, anchor chains and steel works.
Damen Shiprepair & Conversion (DSC) has a worldwide network of eighteen repair and conversion yards of which twelve are located in North West Europe. Facilities at the yards include more than 50 floating and (covered) drydocks, the largest of which is 420 x 90 metres, as well as slopes, ship lifts and indoor halls. Projects range from the smallest simple repairs through Class' maintenance to complex refits and the complete conversion of large offshore structures. DSC completes around 1,300 repair and maintenance jobs annually, both at yards as well as in ports and during voyage.
About Kotug Smit Towage
Kotug Smit Towage was established on 7th April 2016, following the merger of the European harbour towage services of KOTUG (part of Kotug International) and SMIT (subsidiary of Boskalis). It is a leading provider of harbour towage services in north-western Europe, operating in 12 ports in Belgium, Germany, The Netherlands and The United Kingdom. Kotug Smit's high quality services meet the required operational and safety standards in the maritime industry, enabling them to achieve a leading position in the European ports. www.kotugsmit.eu
The products and services herein described in this press release are not endorsed by The Maritime Executive.