GNS and Northrop Grumman Sperry Marine in Co-Operation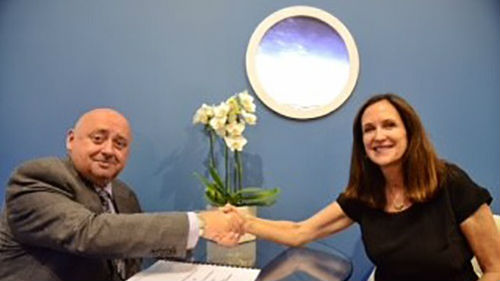 Global Navigation Solutions (GNS), the marine services company, and Northrop Grumman Corporation's Sperry Marine business unit, a leading provider of innovative marine navigation and integrated bridge systems for commercial shipping and defense markets, have announced a strategic co-operation that combines decades of experience and next generation navigation solutions to provide shipping companies with easier exchange of information between the back of bridge planning and data download environment and the electronic chart display and information system (ECDIS) for enhanced safety, improved onboard efficiency and better overall user experience.
Specifically, GNS and Sperry Marine are integrating GNS's Voyager software technology with Sperry Marine's Visionmaster ECDIS platform. The solution will combine Voyager's ability to seamlessly download and manage navigational information onboard, plan and optimise routes for factors including tides and weather and support more cost-effective ways to buy electronic navigational charts (ENCs) and other navigational products, with the advanced graphic interface design and colour coding functionality of the market leading Sperry Marine ECDIS to provide an end-to-end stress-free navigation solution.
"Sperry Marine was excited to showcase at SMM 2016 our next generation ECDIS solutions with the added capabilities of the Voyager software," said Jeanne Usher, Managing Director of Northrop Grumman Sperry Marine. "The thousands of vessels that will use our Visionmaster ECDIS and other solutions will need GNS's Voyager technology to meet the expected increases in data volumes and increasing demand for onboard efficiencies."
Paul Stanley, CEO of GNS, said: "We're excited to forge this technology partnership with Sperry Marine. This partnership will benefit customers by combining GNS's software, data analytics and uniquely cost-effective purchasing options with Sperry Marine's world-class bridge design and hardware manufacturing capabilities in ways that will make navigation information easy to access, manage and use."
The products and services herein described in this press release are not endorsed by The Maritime Executive.