Cable Seal Manufacturer Firm Roxtec Secures Role on Egyptian Gas Field Megaproject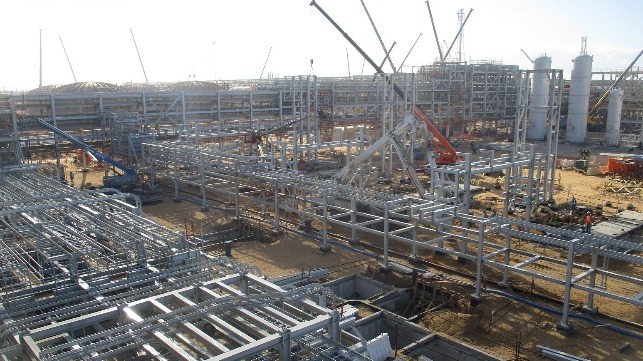 Cable seal manufacturer Roxtec has secured a prestigious role on the BP West Nile Delta international project involving gas production in Egypt. Roxtec UK managing director Clive Sharp said the firm has supplied a range of specialist transits to secure cable entries, building wall penetrations and onshore facilities across the site.
The West Nile Delta resource is being developed to accelerate gas production commitments to Egypt. West Nile Delta gas was delivered to Egypt's national grid in March 2017 and will ramp up to around 1.5 billion cubic feet a day (bcf/d) in 2019, equivalent to about 30 per cent of Egypt's current gas production.
"Roxtec is supplying a range of products for this major development which has been designed to help Egypt meet growth in local energy demand," said Mr Sharp. "This includes galvanised bolted Ex frames along with multi-cable and pipe transits. These were designed specifically for the gas industry in line with certification requirements to reduce the risk of fire, blast, weather and other operational hazards.
"However, a core focus for this project centres on electro-magnetic pulse (EMP) protection. Our solution involves the installation of electro-magnetic compatibility EMC transits. These products provide safety and protection against electromagnetic interference and lightning strikes. The system is approved by all major classification societies and used in many industries and applications.
"Roxtec's bonding and grounding (BG) sealing solution was also used to reduce cable diameters entering the various buildings whilst providing signal screening. This cable entry system is typically used for sealing large quantities of metal clad, armoured or shielded cables in areas with limited space."
Engineers from Roxtec's local support office in Egypt visited the location to provide on-site installation training to electrical and instrumentation sub-contractors. Meanwhile, design support was also delivered through web-based software, Roxtec Transit Designer, which enables engineers to design multi-cable transits remotely within minutes.
"Roxtec has wide ranging experience working in the oil and gas sectors internationally," said Mr Sharp. "A key benefit we offer clients is our worldwide presence. Roxtec has a total of 25 subsidiaries across continents and we service customers in more than 80 markets."
About Roxtec
Roxtec was founded in Sweden in 1990, with its UK base in Bury, Greater Manchester. It is now the global leader in the manufacture of innovative cable and pipe transit systems, supplying many of the world's biggest firms. It is active in 80 markets. Roxtec's products are designed to seal cables and pipes and are used to protect people, buildings and equipment from multiple hazards. Its key market sectors include Marine, Oil and Gas, Telecoms, Construction, Power (generation, distribution and transmission) OEM (e.g. trains, engines, motors, generators) and the Process Industries. Roxtec has a Triple-A credit rating and is actively expanding into new areas offering innovative and safe sealing solutions to a variety of industries. For further details, contact Roxtec UK.Tel: 0161 761 5280 / Email [email protected] or go online at: www.roxtec.com.
The products and services herein described in this press release are not endorsed by The Maritime Executive.