BMT Expanded Ellida Fleet-Design Offerings, Redefining Naval Support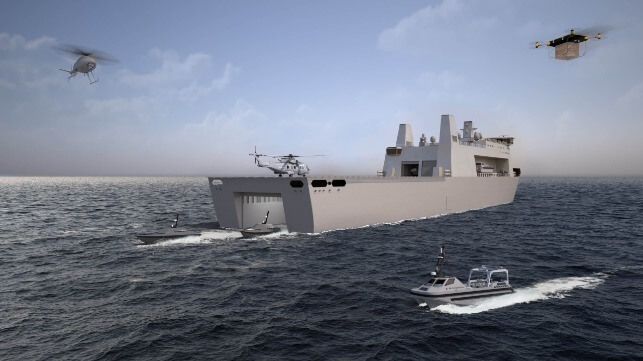 [By: BMT]
BMT, the leading international multi-disciplinary engineering and ship design consultancy, has announced a significant update to its iconic ELLIDA design series, including studies of future technologies and concepts to enhance naval littoral capabilities.

Building on the success of the original ELLIDA design introduced in 2019, BMT now presents the expanded ELLIDA family – a tailorable array of scalable ship designs, developed to explore the complex needs of modern littoral operations.

Monty Long, Global Business Development Director for Defence, Maritime and Security at BMT, says: "In a world where constant competition is a reality and the global pressure of climate change and social migration are stretching western navies, operational advantage in the littoral is more important than ever. The growing ELLIDA family, introduced this year at DSEI, including its newest addition "ELLIDA Future", exemplifies our dedication to exploring our customers' future requirements such as littoral strike and support operations combined with our strategic insights, understanding of cutting-edge technologies, and a deep understanding of the evolving operational landscape."

Designed to provide a scalable and customisable solution, the ELLIDA family, comprises 130m, 150m, 180m and 200m variants of a multi-role support and logistics ship. Leveraging the flexibility of a scalable hull with internal vehicle and logistics decks, organic aviation, weather deck stowage, mission bays and additional accommodation for embarked military forces, the ELLIDA family can adapt to a spectrum of missions ranging from humanitarian aid and disaster relief to warfare operations.

In addition to expanding the family to cover different ship capacities and sizes, BMT has introduced the innovative "ELLIDA Future", a concept that fuses strategic horizon scanning with its naval consultancy expertise and decades of proven ship design experience. Taking inspiration from the evolving landscape of naval operations, "ELLIDA Future" leverages research into efficient hullform development and energy generation and efficiency technologies, highly autonomous warship technologies to support leaner crewing models and trends in the use of autonomous craft to enhance littoral operations. The "ELLIDA Future" allows BMT to explore these themes alongside the existing ELLIDA family and develop interesting future options for its customers.

Complementing the ELLIDA family is BMT's Caimen range of landing craft which can be offered as an integrated package. Andy Kimber, BMT's Chief Naval Architect explains: "Following more than a decade of investment, the Caimen is now available as a range of variants according to loading requirement and hull material. It's a cost-effective platform that offers superior speed, safety, and vessel design flexibility to meet the demands of the littoral operating environment and the needs of a broad spectrum of operations.

To learn more about the ELLIDA series and the Caimen range, come and talk to the BMT Team at DSEI 2023 at stand H5-315.
The products and services herein described in this press release are not endorsed by The Maritime Executive.