Ardent and Singapore Salvage Engineers Join Forces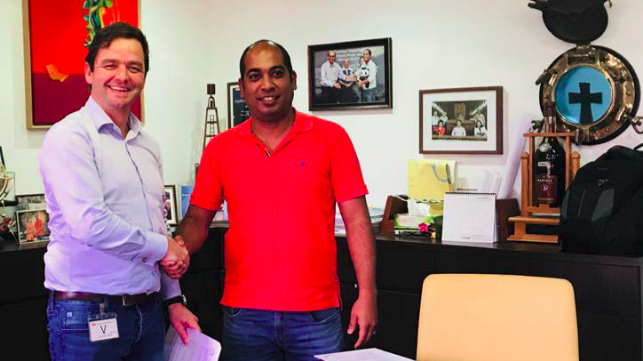 Global maritime services provider Ardent and maritime emergency and support services company Singapore Salvage Engineers (SSE) have formally partnered for future operations within Singapore and the adjacent waters.
The two companies signed a cooperation agreement on the 19th of January 2018 to closely work together on future opportunities and at the same time retain their own corporate identities.
"Through SSE's strong background within the immediate region of Singapore and adjacent waters in combination with the diversity of resources they operate, this cooperation enables the provision of high quality, cost efficient and prompt response solutions towards the maritime and offshore industry in this particular region." said Bas Michiels, Ardent's Director Asia.
"Ardent-SSE had cooperated since 1998 and it is about formalizing and bringing the cooperation between the two companies to greater heights," said Ignatius Francis Danakody, Managing Director, SSE.
SSE has been involved in maritime salvage services since their inception and has intervened in salvage and marine contracting services in the waters off Singapore, Malaysia and Indonesia.
"With this cooperation, Ardent and SSE are able to compliment respectively into forming a much more effective marine emergency response setup. With the expertise from personnel and specialized equipment through Ardent, in combination with the floating resources of SSE and ability to work within Malaysian and Indonesian waters, the readiness of both companies to provide a timely and effective response to the maritime and offshore community is going to make a difference." Michiels added.
Prior to the cooperation, both companies had jointly worked on the numerous salvage cases all around the SE Asia region.
Glovis Spring - China
In February Ardent and Guangzhou Salvage (part of the China Rescue & Salvage group) jointly responded to assist the Korean car carrier Glovis Spring which grounded in China waters carrying over 3000 vehicles. After the immediate response of necessary dedicated salvage resources, the Glovis Spring was successfully refloated 4 days after the grounding and is presently being prepared for re-delivery back to the owners of the vessel.
Through this salvage contract, Ardent and Guangzhou Salvage jointly provide the unique combination to share both its endless Emergency Response experiences through exemplary teamwork. It as well signifies Ardent's close cooperation and working relationship with various China Rescue & Salvage entities.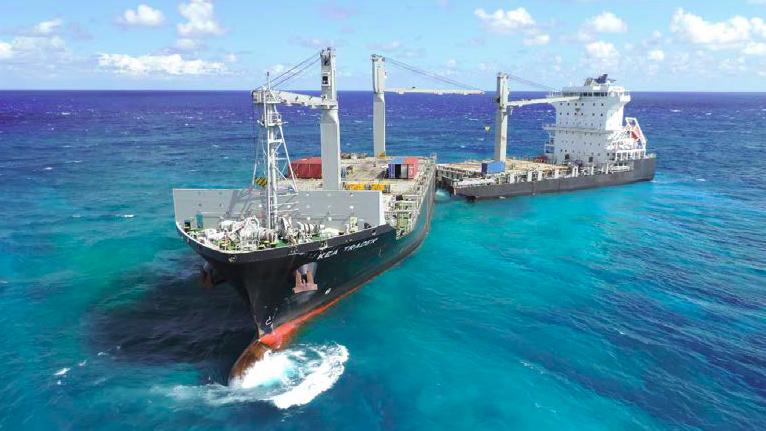 Kea Trader - New Caledonia
Ardent continues caretaker operations on the Kea Trader, which last November fractured into two halves during heavy storms in the South Pacific. The Kea Trader ran aground off New Caledonia on July 12th, and Ardent had assumed salvage activities with a high emphasis on protecting the environment.
Ardent's team has been working continuously on site, leaving the vessel only when harsh weather and sea conditions have deemed operations un-safe. To carry out these tasks Ardent continues to have a considerable team and asset to remove any outstanding pollutants, containers and otherwise look after the wreck. It is a very challenging work, especially in presence of a cyclone, yet the Ardent team continues its operations with zero lost time incidents, with highest care for the environment.
About SSE
SSE was established in 1968 and is a leading international service provider for maritime emergency and support services. Today the SSE group of companies owns and operates more than 50 support vessels. The fleet includes a mix of crane barges, work barges, tugs with capabilities to combat oil pollution, supply boats, rescue boats, dive boats and landing pontoons among others. SSE is fully equipped to support a wide range of maritime emergency, pollution control and support activities. More information on SSE can be found on www.singaporesalvage.com.
About Ardent
In May 2015, Svitzer Salvage, a part of the Maersk Group, and Titan Salvage, under the Crowley Group, merged to form Ardent. Ardent was created to offer a more comprehensive solution to the maritime industry and achieves this by diversifying its services from traditional salvage to a full range of emergency management services, project related work, offshore decommissioning and subsea services. We raised the cruise liner "Costa Concordia" off Italy, refloated the grounded car-carrier "Hoegh Osaka" in the United Kingdom, extinguished the Caribbean Fantasy fire in Puerto Rico, and more recently removed the jack-up, "Troll Solution" from the Gulf of Mexico. As a services company with a strong network, delivering safe, economical and innovative solutions to our customers in the offshore and shipping sectors, we aim to be your trusted partner in challenging circumstances. More information on Ardent can be found on www.ardentglobal.com
The products and services herein described in this press release are not endorsed by The Maritime Executive.