Yacht Goes Aground, Spills Fuel in Marine Sanctuary Off Maui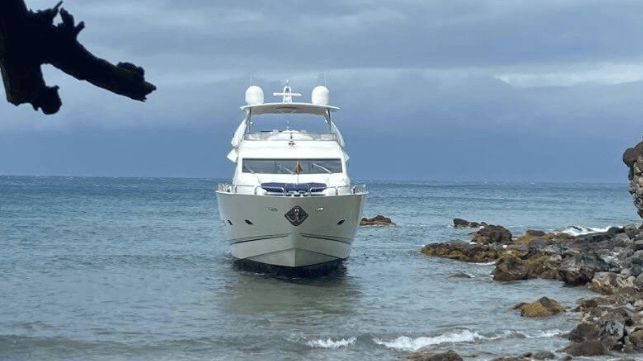 A charter yacht has gone aground in a protected bay on Maui, spilling an unknown quantity of fuel and drawing concern from local officials.
On Monday, the 94-foot yacht Nakoa grounded on the north side of Maui's Honolua Bay, a protected marine sanctuary area. The owner told local media that the yacht's mooring line parted early Monday morning in a "freak accident," resulting in the boat drifting ashore.
The yacht released diesel into the water Tuesday when the bilge pumps activated, the owner told the AP. The owner's initial refloat attempt was not successful, and the U.S. Coast Guard took command of the response. The Coast Guard has selected a professional salvor, Sea Engineering, to remove the vessel and its fuel. The objective is to complete the project by Friday, according to the AP.
Maui Mayor Richard Bissen Jr. has asked Hawaii Gov. Josh Green to expedite the response effort in order to minimize the risk of environmental harm in Honolua Bay. "The longer the vessel remains in the sensitive area the higher the risk of damage," Bissen said.
A private construction company has offered to push the boat off the beach with an excavator, and Maui County issued the necessary emergency permit so that the machine could access the site from the land side. However, the State of Hawaii's natural resources department said that it does not plan to issue a permit to allow this refloat method.
Honolua Bay is part of a state-administered marine life conservation district, where fishing and removal of marine life are prohibited. It is home to large coral outcroppings, and it is a popular diving destination.