Video: Salvors Begin to Move Yacht Off Protected Hawaiian Reef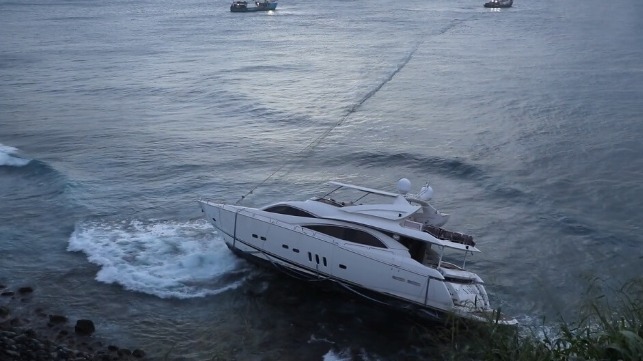 On Sunday night, salvors rigged up a towline to a grounded yacht in Maui's protected Honolua Bay and began the work of pulling her off the reef.
The spill response ship Kahi and the Sause Brothers tug Mary Catherine deployed to Maui for the operation, with the tug providing the pulling power. In two attempts, the team turned the grounded yacht about 90 degrees towards seaward and pulled it about 10-20 feet down the reef.
However, the rigging failed during the second towing attempt on Monday, according to state officials, forcing the salvor to return to Oahu to pick up more gear. Work will resume Wednesday.
On February 20, the 94-foot yacht Nakoa grounded on the north side of Maui's Honolua Bay, a state-protected marine sanctuary. The owner told local media that the yacht's mooring line parted early that morning in a "freak accident," resulting in the boat drifting ashore.
The yacht released diesel into the water on the 21st when the bilge pumps activated, and the owner told state officials that he could not pay for defueling or wreck removal. The U.S. Coast Guard took control of the scene and paid for fuel removal, which was carried out by a salvage crew and a cargo helicopter over the course of three days last week.
Once fully defueled, the custody of the vessel was transferred to the State of Hawaii, which hired a wreck removal contractor to free it from the reef. The state plans to bill the boat's owner the $460,000 expense for salvage, plus any administrative fines stemming from the casualty.
Before the grounding, Nakoa was moored on a day-use buoy in an area where overnight mooring was prohibited. The owner told local media that this was inadvertent and that he would have relocated if someone had contacted him to enforce the rule.
In the wake of the grounding, officials on Maui have called for better enforcement of marine safety regulations near the island's waters, as well as improved response capabilities for the boat groundings that occur with frequency on its beaches. Most of the spill-response gear and salvage equipment for the Nakoa had to be brought in from Oahu, delaying deployment.
"We don't have the resources for containment of spills, and those are issues that seriously need to be worked on sooner rather than later," West Maui Council member Tamara Paltin told Honolulu Civil Beat.