USS Fitzgerald Arrives at Pascagoula for Repairs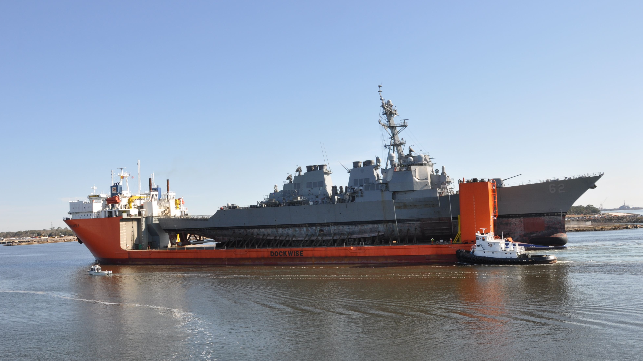 On Friday, the damaged destroyer USS Fitzgerald arrived in Pascagoula, Mississippi aboard the heavy lift ship Transshelf from 7th Fleet's base at Yokosuka, Japan.
Fitzgerald will spend several days in the Port of Pascagoula as salvors unfasten her from her transport cradle, lower her into the water by ballasting down the Transshelf, then guide her carefully off the vessel's cargo deck. The Fitzgerald will then be towed to the Huntington Ingalls Pascagoula shipyard.
Both repair and new construction will occur during the restoration. The Fitzgerald's collision with ACX Crystal badly damaged her radar array, and the flooding that followed destroyed a significant proportion of her advanced electronics and equipment. The repairs will cover her electronic warfare suite, radar, switchboard, gas turbine generator and air condition plant. Fitzgerald will also receive an array of mechanical, combat system and comms upgrades that were originally planned for installation during FY2019. The Navy says that the entire restoration and modernization effort is expected to take two years, including more than a year of drydock time.
In the early hours of June 17, 2017, the Fitzgerald collided with the container ship ACX Crystal southwest of Tokyo Bay. The Crystal struck her amidships on the starboard side, crushing the commanding officer's cabin and creating a 12-foot by 17-foot hole below the waterline, leading to rapid flooding in a machinery space and a berthing area below. Seven sailors were killed and three were injured, including the commanding officer.
The Fitzgerald's C/O, X/O, master chief and several junior officers have been relieved of their duties, along with the commanders of her unit, DESRON 15, her battle group, Task Force 70, and her fleet, the Yokosuka-based 7th Fleet. Fitzgerald's commanding officer and two of her junior officers face charges of hazarding a vessel, negligent homicide and dereliction of duty.
The Fitzgerald collision and a similar incident involving the USS John S. McCain have had an effect further up the chain of command as well. The commander of Pacific Fleet, Adm. Scott Swift, was passed over for the post of commander of U.S. Pacific Command, and he has announced his retirement. The commander of Naval Surface Forces, Vice Adm. Thomas Rowden, announced his early retirement in September and recently agreed to accelerate his departure. On Thursday he was relieved by Vice Adm. Richard A. Brown, formerly commander of Navy Personnel Command (NPC).
"It has been an honor to serve with you," Rowden told his staff. "I am proud of all of you and all you do to keep our nation free."
Rowden will retire on February 2. His early resignation is said to be related to disciplinary recommendations from an independent inquiry led by Director of Naval Reactors Adm. James F. Caldwell.