U.S. Navy Intercepts Yemen-Bound Arms Smugglers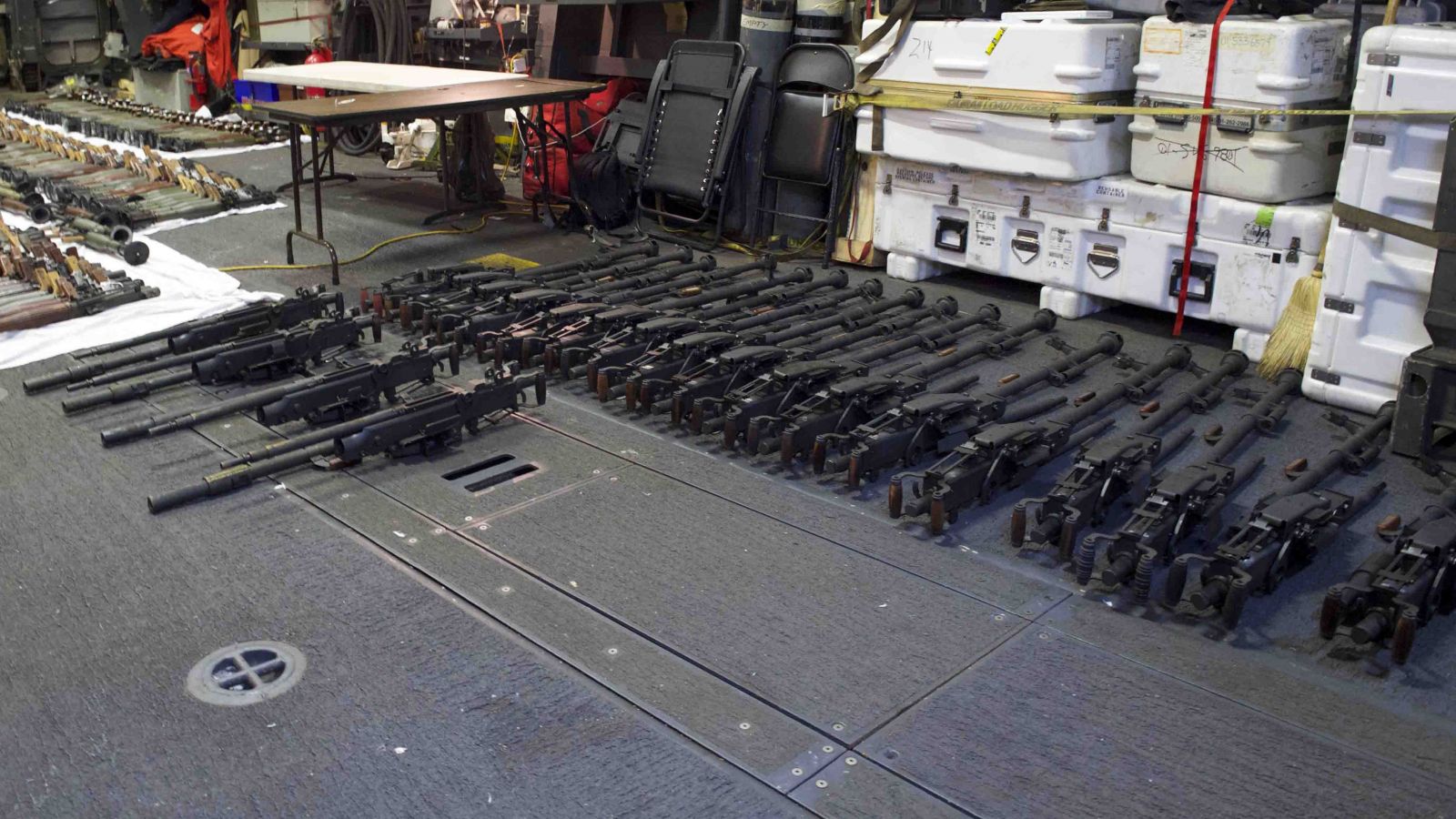 The U.S. Navy announced Monday that the coastal patrol ship USS Sirocco intercepted and boarded a stateless vessel in the Arabian Sea and confiscated a cargo of weapons.
The cache included 1,500 AK-47s, 200 RPG launchers and 21 .50 caliber heavy machine guns. Military intelligence assessed that the arms shipment originated in Iran and was likely bound for Houthi insurgents in Yemen.
The Sirocco was supported by USS Gravely, which was directed to assist following the discovery of the weapons.
As the vessel was interdicted in international waters and the Sirocco's crew did not have jurisdiction to make an arrest, the dhow and her crew were allowed to depart following the confiscation of the cargo.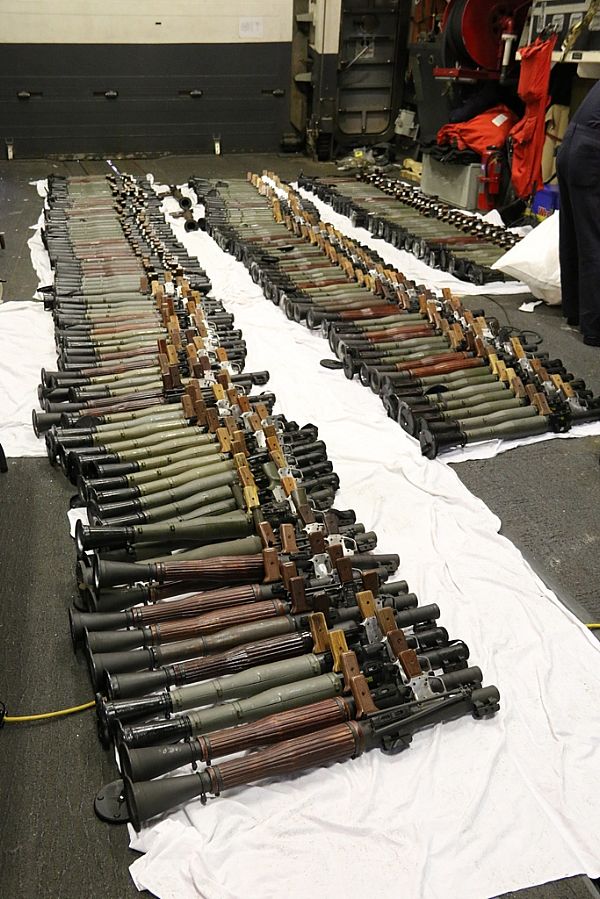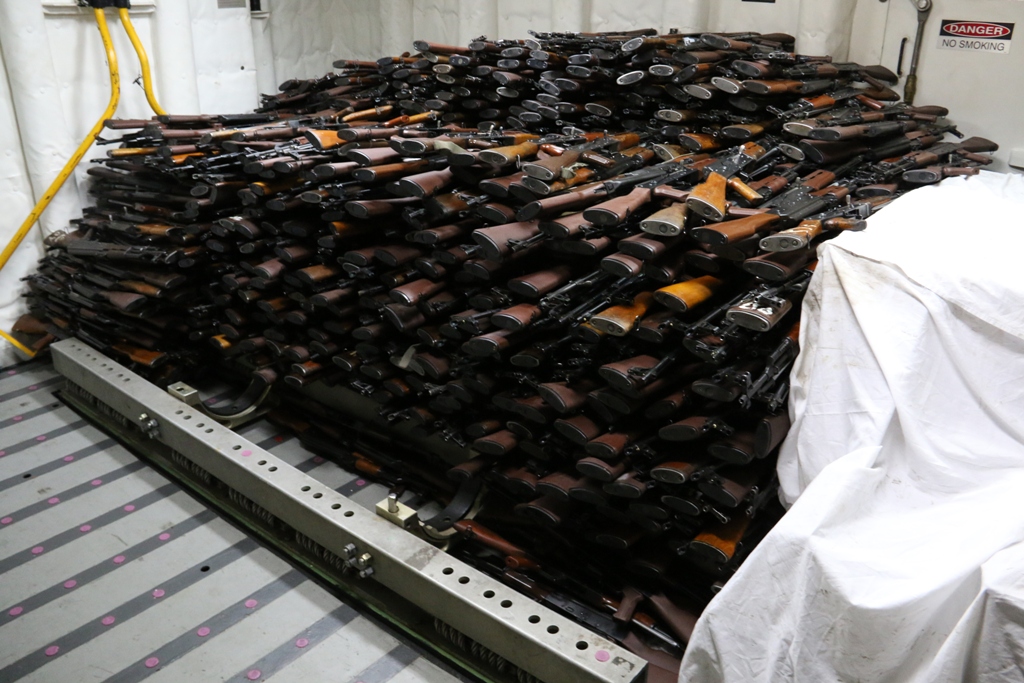 The intercept is the third in recent weeks to discover arms shipments aboard small vessels bound for Yemen. The Royal Australian Navy's HMAS Darwin intercepted a dhow on February 27, confiscating nearly 2,000 AK-47 assault rifles, 100 rocket-propelled grenade launchers, 49 PKM general purpose machine guns, 39 PKM spare barrels and 20 60mm mortar tubes. A March 20 seizure by the French Navy destroyer FS Provence yielded almost 2,000 AK-47 assault rifles, 64 Dragunov sniper rifles, nine anti-tank missiles and other associated equipment.
Analysts warn that the growing conflict in Yemen threatens to impede global shipping, as the fighting is on shores adjacent to the Bab el-Mandeb passage, through which nearly four million barrels of tanker-borne oil pass daily.
"The collapse of Yemen as a political reality and the power of the Houthis will enable Iran to expand its presence on both sides of the Bab el-Mandeb, in the Gulf of Aden and in the Red Sea. Already discrete numbers of Iranian naval vessels regularly sail these waters," said J. Peter Pham of the U.S. think-tank the Atlantic Council. "If the Iranians were to gain access to a de facto base in some port or another controlled by the Houthis whom they have aided in the latter's fight, the balance of power in the sub-region would shift significantly."
Meanwhile, on Monday the U.S. Navy announced the start of the world's largest maritime security exercise, the International Mine Countermeasure Exercise, with naval and civilian vessels from 30 nations training together across the Middle East.
The joint exercise is organized and led by the Navy's Central Command.
"These participating nations are united by a common thread - the need to protect the free flow of commerce from a range of maritime threats including piracy, terrorism and mines," said Vice Adm. Kevin Donegan, commander, U.S. Naval Forces Central Command. "This region provides a strong training opportunity for nations worldwide as three of the six major maritime chokepoints in the world are here: the Suez Canal, the Strait of Bab Al Mandeb and the Strait of Hormuz . . . This region is clearly important to the whole world."