U.S. Navy Christens USS Washington
The U.S. Navy christened its newest Virginia-class attack submarine USS Washington (SSN 787) on Saturday at Newport News Shipbuilding, Virginia.
"The christening of the future USS Washington brings this technological marvel one step closer to joining the fleet where it will serve as a crucial piece of the finest expeditionary fighting force the world has ever known," said Secretary of the Navy Ray Mabus.
"Submarines like the Washington, and all of our platforms, are essential to our sailors and marines' ability to do their jobs. Our ships, and those who build them, enable our Navy and Marine Corps to maintain a global presence and protect America. This ceremony is a celebration of not only a submarine but also those who worked to build it, the backbone of our ability to protect our nation, our shipbuilders."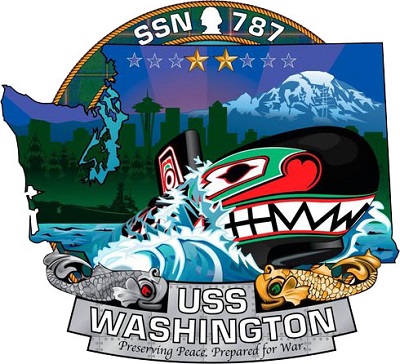 The future Washington is the 14th Virginia-class nuclear submarine and the fourth Virginia-class Block III submarine. The ship began construction in 2011 and will commission in 2017.
Block III and later Virginia-class submarines have a redesigned bow which feature a water-backed large aperture bow (LAB) sonar array and two large diameter Virginia payload tubes (VPTs), each capable of launching six Tomahawk cruise missiles. The two VPTs replace 12 individual vertical launch system (VLS) tubes utilized on earlier submarines. The VPTs simplify construction, reduce acquisition costs, and provide for more payload flexibility than the smaller VLS tubes due to their increased volume.
The Washington will have the capability to attack targets ashore with highly accurate Tomahawk cruise missiles and conduct covert long-term surveillance of land areas, littoral waters or other sea-based forces. Other missions include anti-submarine and anti-ship warfare; Special Forces delivery and support; and mine delivery and minefield mapping. So far, 12 Virginia-class submarines have been delivered, 11 are in construction and five are under contract.
The future Washington will be the third U.S. Navy ship to be commissioned with a name honoring the State of Washington. The previous two ships were a World War II battleship (BB-56), decommissioned in 1947, and an armored cruiser (ACR-11) which served under the name from 1905 to 1916.
Virginia-class submarines weigh 7,800 tons and are 377 feet in length, have a 34 foot beam and can operate at more than 25 knots submerged. They are built with a reactor plant that will not require refueling during the planned life of the ship, reducing lifecycle costs while increasing underway time.
These next-generation attack submarines have improved stealth, sophisticated surveillance capabilities and special warfare enhancements that will enable them to meet the Navy's multi-mission requirements.
With the number of foreign diesel-electric/air-independent propulsion submarines increasing yearly, the United States Submarine Force relies on its technological superiority and the speed, endurance, mobility, stealth and payload afforded by nuclear power to retain its preeminence in the undersea battlespace.
The Navy has three classes of SSNs in service. Los Angeles (SSN 688)-class submarines are the backbone of the submarine force with 40 now in commission. Thirty Los Angeles-class SSNs are equipped with 12 Vertical Launch System tubes for firing Tomahawk cruise missiles.
The Navy also has three Seawolf-class submarines. Commissioned on July 19, 1997, USS Seawolf (SSN 21) is exceptionally quiet, fast, well-armed, and equipped with advanced sensors. Though lacking Vertical Launch Systems, the Seawolf class has eight torpedo tubes and can hold up to 50 weapons in its torpedo room. The third ship of the class, USS Jimmy Carter (SSN 23), has a 100-foot hull extension called the multi-mission platform. This hull section provides for additional payloads to accommodate advanced technology used to carry out classified research and development and for enhanced warfighting capabilities.