U.S. Delivers Patrol Boats, Cutter to Vietnam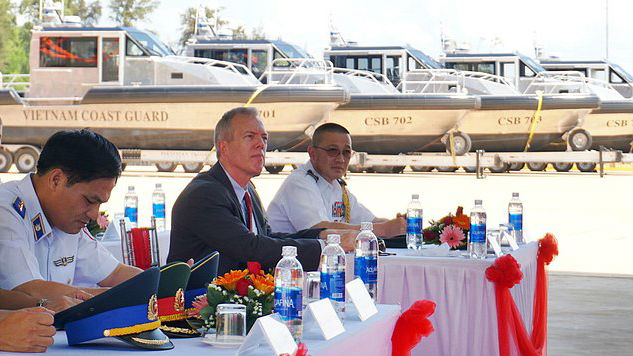 Six new military patrol boats built by Louisiana, USA-based shipbuilder Metal Shark have been delivered to the Vietnam Coast Guard.
The welded-aluminum Metal Shark 45-foot Defiant pilothouse patrol vessels were provided to Vietnam by the United States in a historic move that underscores the increased security cooperation between the two nations. The vessels were officially handed over by U.S. Ambassador Ted Osius to the Vietnam Coast Guard on Monday in the province of Quang Nam.
The boats will be employed by the Vietnam Coast Guard on law enforcement missions focused on smuggling, illicit trafficking, piracy and illegal fishing, according to a statement by the U.S. Embassy. The move comes amid on-going tension in the disputed South China Sea.
"Vietnam's future prosperity depends upon a stable and peaceful maritime environment," said Osius at the handover ceremony. "The United States and the rest of the international community also benefit from regional stability, which is why we are here today, and it is why we are very pleased to be working together with the Vietnam Coast Guard."
The vessels, which were built at Metal Shark's Franklin, Louisiana waterfront shipyard complex, are powered with twin Cat C-9 diesel engines mated to Hamilton water jets. Urethane-sheathed, closed-cell foam collars by Wing provide impact protection during alongside maneuvers or while docking.
Liberty Global Logistics' U.S.-flagged vessel Liberty Passion carried the patrol boats on her maiden voyage out of the U.S. The patrol boats were loaded in Beaumont, Texas, on March 2. The freight forwarder was Ceva in Houston.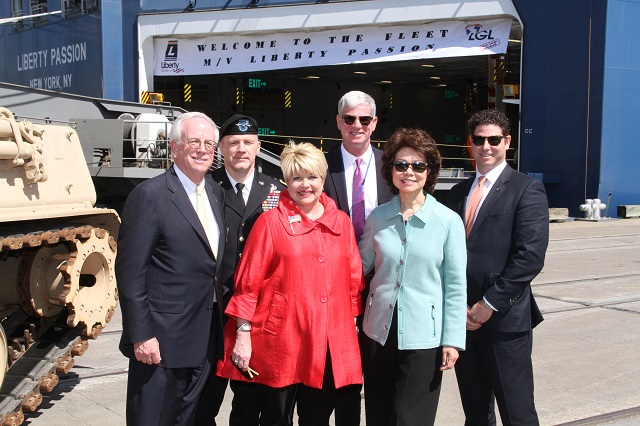 From left to right : Robert G. Wellner, President of Liberty Global Logistics, Lieutenant General Stephen L. Lyons, USA Deputy Commander of U.S. TRANSCOM, Becky Ames, Mayor of Beaumont, Philip J. Shapiro, Chairman and CEO of Liberty Global Logistics and President and CEO of Liberty Maritime Corporation, The Honorable Elaine L. Chao, US Secretary of Transportation, Joshua Shapiro, Executive Vice President Liberty Global Logistics.
Additionally, the U.S. Coast Guard transferred a high endurance cutter USCGC Morgenthau to the Vietnam Coast Guard during a ceremony in Honolulu, on Thursday.
The ship, which will be renamed CSB 8020, is expected to improve the Vietnam coast guard's maritime domain awareness, increase its capacity to perform maritime law enforcement operations and conduct search and rescue and other humanitarian response operations.
"This cutter provides a concrete and significant symbol of the U.S. - Vietnam Comprehensive Partnership," said U.S. Coast Guard Rear Adm. Michael J. Haycock, assistant commandant for acquisition and chief acquisition officer. "The Coast Guard is honored to see this vessel continue to preserve global peace and prosperity as a part of the Vietnam coast guard."
The CSB 8020 was transferred to the Vietnam Coast Guard from the U.S. Government through the Excess Defense Articles program, a program that offers excess military equipment to U.S. allies in support of their military and security modernization efforts.