Underwater Medicine Specialists Adapt for Desert Role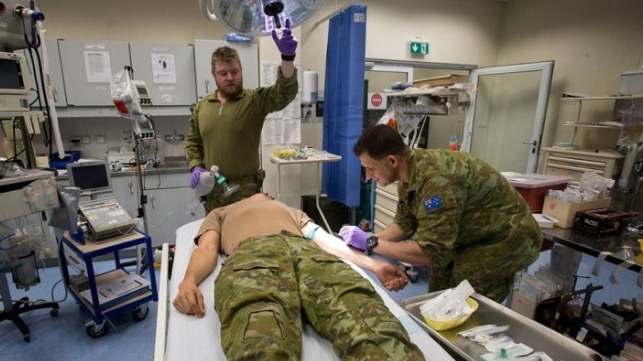 As part of the Australian Defence Force's ongoing commitment to the war in Afghanistan, Royal Australian Navy underwater medicine clinicians and doctors are deploying to this arid and rugged landscape far away from the oceans.
Over the last four years, 11 members of this specialized community have worked across a number of locations in roles ranging from pre-hospital care through to tertiary hospital-based services.
Underwater medicine clinicians are medics drawn from the Royal Australian Navy and the Australian Army who receive additional specialized training in diving medicine. They provide care in isolated and remote settings, often without clinical supervision at hand. To provide this capability, they are qualified in a range of critical care skills such as advanced life support, surgical procedures and airway management.
The changing face of modern warfare, combined with emerging clinical science, has driven a change in the education of underwater medicine clinicians. Tactical combat casualty care and operational planning have been recent additions to the curriculum, and this serves these personnel well in war zones like Afghanistan.
Beyond the traditional setting of providing operational healthcare to divers, underwater medicine clinicians are now using these clinical skills to treat battle casualties in less traditional domains.