U.S. Navy Quietly Decommissions Two Littoral Combat Ships in One Day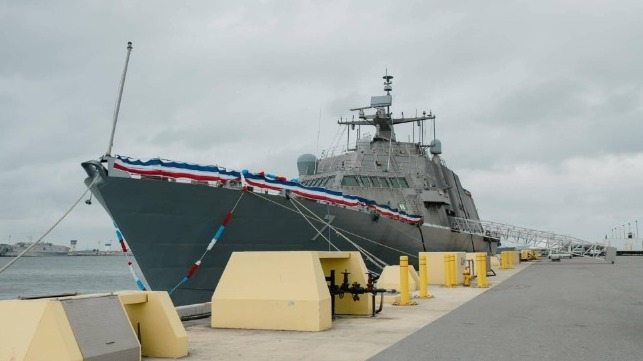 On Friday, the U.S. Navy base in Mayport, Florida hosted a scene rarely encountered since the mass demobilization of the late 1940s: two young warships with long lifetimes ahead were removed from service at the same harbor, on the same day.
The Freedom-class littoral combat ships USS Detroit and USS Little Rock are both well under 10 years old, and they are leaving the fleet two decades before the end of their design lifetime. Seven-year-old Detroit decommissioned in a ceremony Friday morning; later that evening, sister ship USS Little Rock - motto "Back with a Vengeance" - decommissioned in another ceremony nearby. The now-surplus Little Rock is only six years old and is headed to Philadelphia for layup, possibly for a future foreign military sale, according to local media.
Unlike most decommissioning ceremonies, the events were completed without an official readout or a photo release, though USS Detroit's crew memorialized the occasion on their Facebook page.
In service, Little Rock avoided the high-profile mechanical breakdowns associated with the Freedom-variant LCS. USS Detroit was not so lucky: she encountered problems during a deployment in 2020 caused by the class' well-publicized combining gear defect. Both Little Rock and Detroit were deployed until a few days before their decommissionings.
The U.S. Navy wants to offload all nine of its early-generation Freedom-class LCS vessels, which have high maintenance and operating costs but limited lethality and survivability, especially in a high-end fight. After early disappointments with the ship's maintainability and extended delays in the development of its multipurpose "mission packages," the Navy assigned the Freedom-class permanently to sub-hunting; however, the third-party sonar package for its ASW mission was canceled in 2022 after further developmental delays. According to then-Chief of Naval Operations Adm. Mike Gilday, the small warships are "as noisy as an aircraft carrier" - an inbuilt challenge for sensitive ASW sonar systems.
Without a working sonar, the Navy decided that it didn't need the early Freedom-class vessels for sub-hunting either. In 2022, the service proposed early retirement for every commissioned vessel of the type then in service, a total of nine hulls. Congress approved decommissioning for four, including Little Rock and Detroit. Each ship cost approximately $350 million to build.
The Navy continues to take delivery of additional new Freedom-class hulls while awaiting the arrival of the future Constellation-class frigate, which will replace both LCS classes in future production. The final three Freedom-class vessels in the series have all been launched and are in various stages of fitting out.