U.S. Navy Cruiser Involved in Replenishment Collision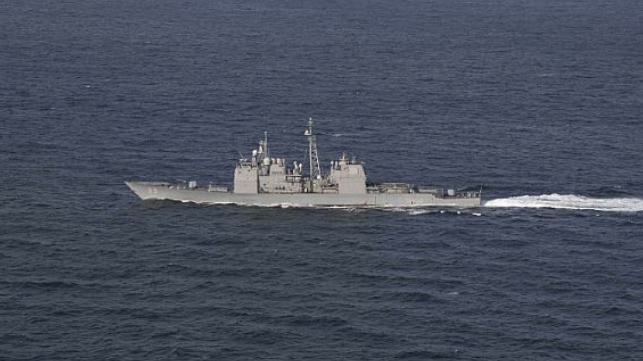 A U.S. Navy guided-missile cruiser and dry cargo ship made contact during an underway replenishment off the southeastern coast of the U.S. on Tuesday.
Nobody was injured, and USS Leyte Gulf (CG 55) and USNS Robert E. Peary (T-AKE 5) were able to safely operate after the incident. USNI News reports that the supply ship suffered an eight-inch gash above the waterline, and USS Leyte Gulf suffered minor damage to flight-deck netting. Damage will be assessed in detail when the ships arrive in port.
The ships had been conducting a replenishment-at-sea when the sterns touched at approximately 4 p.m. Eastern Standard time. The ships were conducting operations in conjunction with the Abraham Lincoln Carrier Strike Group.
The incident is the latest in a series of incidents for the U.S. Navy over the last few years. The USS Fitzgerald collided with the container ship ACX Crystal in the early hours of June 17, 2017, off Japan. Seven sailors drowned as a result. Additionally, USS John S. McCain collided with the merchant tanker Alnic MC while underway near the Strait of Singapore on August 21, 2017. 10 sailors lost their lives in the flooding that followed.