TOTE and MAN to Convert Jones Act Ro/Ros to LNG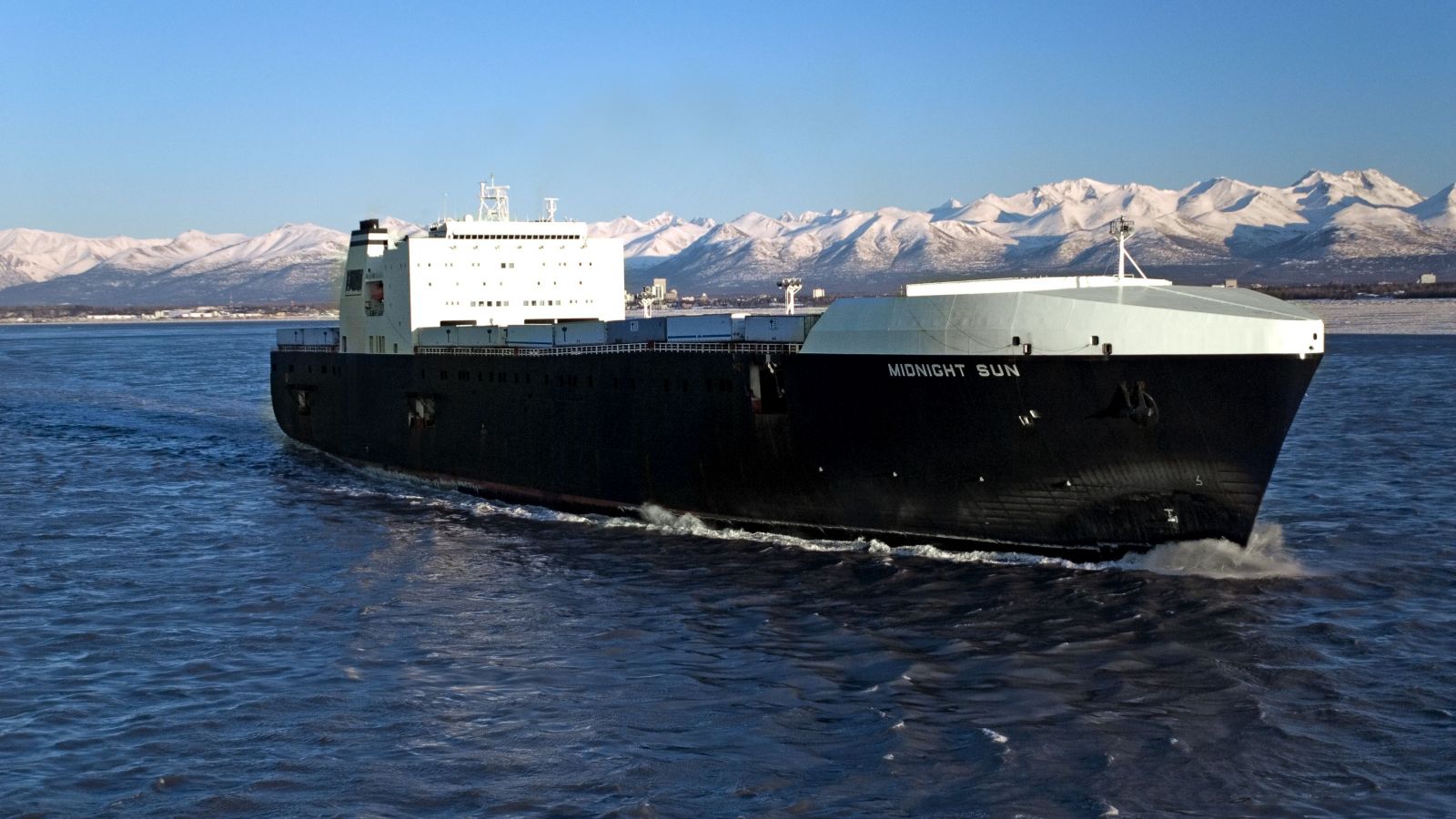 On Thursday, Jones Act carrier TOTE confirmed that its Alaska subsidiary has contracted with MAN Diesel & Turbo to carry out the conversion of two ro/ros, the North Star and Midnight Sun, to run on LNG.
TOTE Maritime Alaska's vessels were originally slated for conversion at Keppel Offshore & Marine in Singapore beginning in 2015, and Wartsila was initially contracted to provide main engines, generators and integrated LNG storage and fuel gas handling systems. However, due to circumstances stemming from the sinking of the con/ro El Faro and the scrapping of her sister ship El Yunque, the project was pushed back. The conversions will now begin at the end of this year and finish in early 2021. Work will be completed in two stages per ship to minimize time out of service, and it will be carried out at Seaspan's Victoria Shipyard in British Columbia.
The new contract with MAN's PrimeServ division was signed in April, and it covers the conversion of the four MAN 58/64 medium-speed engines on each ship. It will be the largest LNG conversion undertaken in North America. "We have developed a solution based on our well-proven 51/60DF retrofit. Accordingly, the engineering approach to the 58/64 retrofit is very familiar to us, and this project represents a straightforward conversion procedure," said Dr. Thomas Spindler, the head of upgrades and retrofits at MAN PrimeServ Augsburg. The modifications are also expected to extend the engines' working life.
TOTE Maritime Alaska said that a key component of its decision to retrofit the vessels to LNG is to reduce the most harmful emissions that result from burning diesel, and TOTE EVP Peter Keller added that the conversion will be an important milestone for the industry as it prepares for the impending 2020 IMO worldwide sulfur cap.
TOTE's TOTE Maritime Alaska subsidiary handles approximately one-third of goods transportation between the continental US and Alaska. Both the North Star and Midnight Sun operate routes between Anchorage and Tacoma, Washington. The two ships were originally constructed by NASSCO's San Diego yard and were commissioned in 2003. TOTE's TOTE Maritime Puerto Rico subsidiary operates the world's first LNG-powered container ships, the Isla Bella and Perla del Caribe, both launched in 2015.
TOTE is also planning to enter the U.S. mainland-to-Hawaii route with a new series of four container ships. The company is working with Philly Shipyard to construct newbuilds custom-designed for the trade.