Taiwanes Air Force Apologizes for Bombing Near Coast Guard Cutter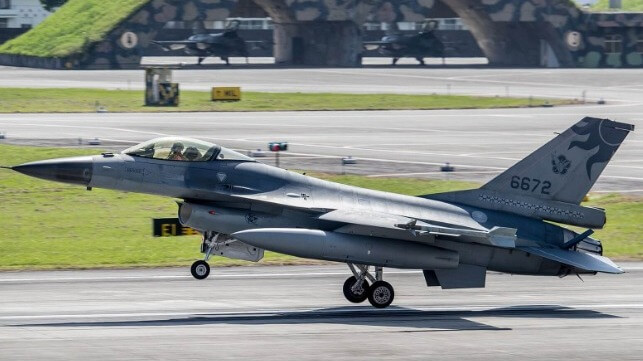 Last week, Taiwan's air force nearly bombed a Taiwanese Coast Guard cutter during a training exercise gone awry, according to top officials.
Republic of China Air Force Chief of Staff Gen. Tsao Chin-ping apologized on Tuesday for the training mishap. According to Gen. Tsao, an F-16V fighter was conducting a training on bombing a target at sea on August 9. The two-man crew dropped a 2,000-pound Mk 84 bomb far off-target off the coast of Pingtung. There were no vessels in the immediate vicinity, but the blast was still powerful enough to rock a nearby Taiwan Coast Guard cutter.
The incident was first publicized by members of the coast guard cutter's crew, who complained on social media that they had been injured by the bomb's shockwave. The Taiwan Air Force acknowledged the training error and apologized for the incident the next day.
Gen. Tsao said that the F-16's pilot and the instructor on board would be disciplined in connection with the accident.
Taiwan's military is working hard to prepare for the threat of a cross-strait invasion from China. The U.S. believes Beijing could order the People's Liberation Army to attempt a forcible reunification of Taiwan before the end of the decade, leveraging the PLA Navy's increasing strength to blockade or invade the island.
To prepare for this contingency, the Biden administration is working to help Taiwan defend itself by speeding up weapons transfers and training. Taiwan has ordered nearly $20 billion worth of weaponry from the United States, including Harpoon anti-ship missiles, which would be invaluable for halting an amphibious assault.
From the other side of the strait, China has been amping up its naval and aerial drills around Taiwan's borders. In April, the PLA conducted a three-day exercise designed to simulate "sealing off" Taiwan from the outside world. Beijing dispatched the aircraft carrier Shandong to the east of the island and conducted a series of naval drills, including simulated attacks and blockades.
In August 2022, following a high-profile visit by House Speaker Nancy Pelosi, the PLA launched its largest-ever series of exercises around the island. Taiwan's armed forces reported that the drills - involving more than 90 ships and aircraft at the peak - appeared aimed at simulating an attack. China's PLA described the August 2022 exercises as "a serious warning against 'Taiwan independence' separatist forces' collusion and provocation with external forces [the United States], and a necessary action to safeguard national sovereignty and territorial integrity."