Makassar Highway Spill Could Lead to Penalties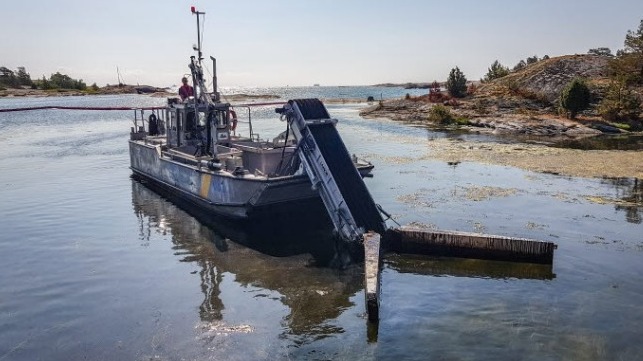 Sweden's coast guard has launched an investigation into potential environmental violations and water pollution fines for the operator of the ro/ro Makassar Highway, which went aground and spilled oil near Vastervik, Sweden on July 23.
The agency said Friday that it has submitted a notification of a breach under Sweden's Environmental Code or a violation of Act (1980: 424) on ship-source pollution measures. A preliminary investigation has been initiated at the Public Prosecutor's Office for Environmental and Occupational Safety Objectives.
The Highway has been towed to the harbor at Oskarshamn, Sweden and moored, and Sweden's Transport Agency does not want her to depart until the operator files a complete plan for repair and transport. Oskarshamn does not have large drydock facilities for repairing the Highway's extensive hull damage, and the plan will likely include temporary repairs for a tow to another shipyard.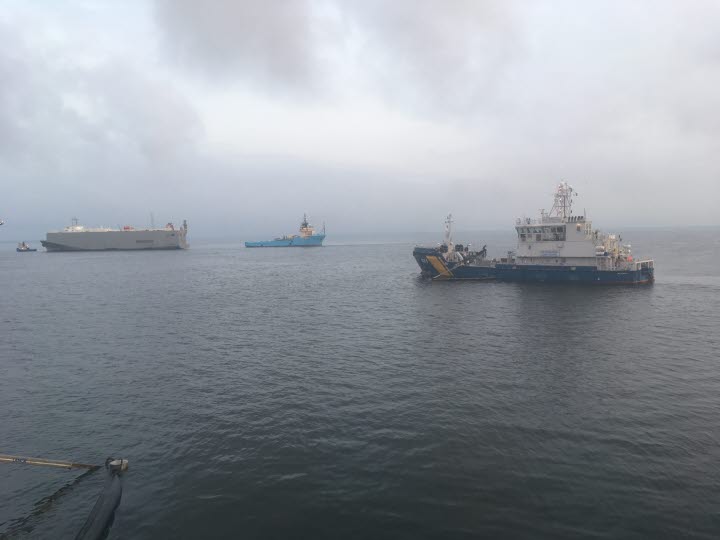 The Makassar Highway under tow (Swedish Coast Guard)
Cleanup efforts continue near the site of the grounding and along the tow route. Response coordinator Mattias Heneborn said in a statement that overflights of the route showed light pollution from the vessel's leaking tanks, and response vessels are determining whether the oil can be recovered or contained.
The Makassar Highway went aground on a rocky archipelago north off Vastervik, Sweden on July 23l. Pär-Åke Eriksson, the coast guard station manager at Vastervik, told Swedish broadcaster SVT that the vessel was making 14 knots prior to the grounding. Swedish prosecutors have charged the Makassar's chief officer with negligence in connection with the grounding, and he has reportedly accepted a 60-day sentence.
The Highway refloated unexpectedly last weekend, releasing an unknown quantity of fuel oil from her damaged bunker tanks. Spill response boats recovered about 1,800 gallons of HFO, but oil still reached shore near the town of Flatvarp. The vessel was anchored offshore, and a dive inspection revealed serious damage and cracks in her hull. To reduce risk, the operator requested permission to tow the vessel to a port of refuge, and the Swedish Coast Guard granted permission to bring her to Oskarshamn.