Stena Tries Out Pod Accommodations on Ferries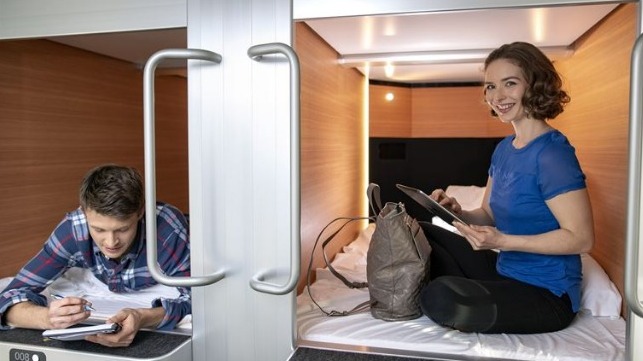 Stena Line has decided to trial Japanese capsule-style sleeping accommodations on its vessels, a first for the ferry industry. The compact two-square-meter pods, inspired by Tokyo's capsule hotels, offer a cost-effective way for travelers to get a good night's sleep on their voyage.
Stena Line has installed the sleeping pods on its Mecklenburg-Vorpommern and Skåne vessels, which operate on a seven-hour run between Rostock, Germany and Trelleborg, Sweden. "We see it as an innovative offer for a cost-conscious target group, which nonetheless values comfort and privacy," said Martin Wahl, travel commercial manager for Stena Lines routes between Germany and Sweden. "The sleeping pods are a great way for young people, backpackers or campers to travel cheaply and comfortably to Sweden. But also travellers on short break and business travelers can fully recover with this modern way of traveling,"
Each berth is equipped with a mattress and bed linen, as well as air conditioning, a charging station and WiFi. Luggage can be stored outside the pods in lockers.
The capsule hotel developed in Tokyo as a way to offer no-frills, low-cost accommodations in one of the most expensive real estate markets in the world. These facilities offer the visitor a certain amount of privacy while retaining the economy of a hostel dorm's shared facilities and user density. Even in Tokyo, costs may be as low as $30 per night. Today, similar operations can be found in many other high-cost cities (notably New York) and in a number of major airports.
Classic Tokyo capsule hotel (Kojach / Flickr)