South Korea Reinstates COVID Restrictions on Crew Arriving from China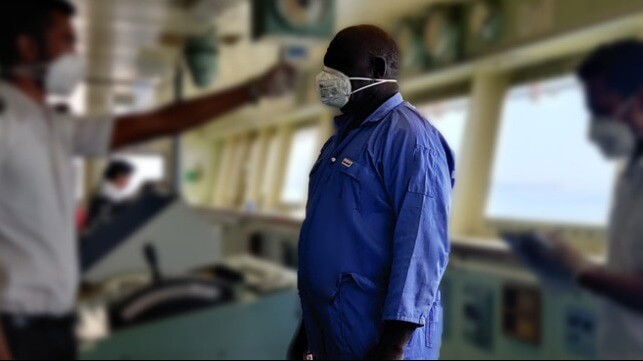 Days after China took additional steps to reduce its COVID-19-related travel restrictions, including permitting crew changes and shore leaves, other countries have begun increasing restrictions on travelers coming from China. Included in the new rules are a return of limits on crew changes with South Korea reinstating its testing and quarantine requirements. China responded by criticizing countries that add restrictions and in retaliation suspending visas.
Port agency, logistics, and marine services company GAC in its round-up of developments at ports reports the testing requirements for crews coming from China to South Korea, as well as international crews arriving at Hong Kong. The reinstatement of the testing requirements and limits on crew changes and shore leaves comes after most countries around the world had relaxed or eliminated their restrictions after in some cases two years or more of regulations that had trapped crew members at sea.
The World Health Organization and multiple countries have been expressing concern about a suspected spike in COVID variant cases in China and a lack of transparent reporting from China. The country is thought to have experienced large spikes in December as the government rolled back its long-standing no COVID policies.
"Due to the surge of COVID infections, crew disembarking or taking shore leave at Korean ports from vessels whose last port of call was in China must undergo a PCR test and quarantine for one day," GAC is advising customers. "A negative result must be confirmed before disembarkation," but they note the testing requirement does not apply to crews coming from other countries.
Similarly, while China has relaxed its international travel policies and reopened its borders, GAC advises for any vessel which has been in mainland China within seven days, Hong Kong authorities are requiring PCR tests before disembarking for crew signing off. However, for vessels that have only been to other countries within seven days, Hong Kong is requiring signing off crew only to have a negative RAT test result.
A report on CNBC is quoting South Korean health officials as saying as many as 80 percent of the country's imported COVID cases are coming from China. Further, CNBC reports the officials said that the number of people traveling from China who tested positive for COVID-19 went up 14 times from November to December.
South Korea is also reinstating the COVID-19 testing requirement for anyone flying to the country from China. They are now being required to show negative test results to board their flights and to also take a test when they arrive in South Korea. Similar testing requirements for travelers from China were also introduced by countries ranging from Japan to Taiwan, the United States, and Italy. The requirements are being increased in part due to the Chinese New Year holiday which is historically the busiest travel season of the year in Asia.
China removed the mandate for quarantines for inbound travelers starting this week and now is criticizing countries that are imposing new restrictions. Calling the policies of South Korea and Japan discriminatory, China has suspended issuing short-term travel visas and travel exemptions for people coming from South Korea and Japan. Those countries contrasted their efforts noting that their requirements were not based on nationality but instead on the geographic areas from where the travelers were coming.