China Permits Crew Changes as COVID Travel Restrictions are Relaxed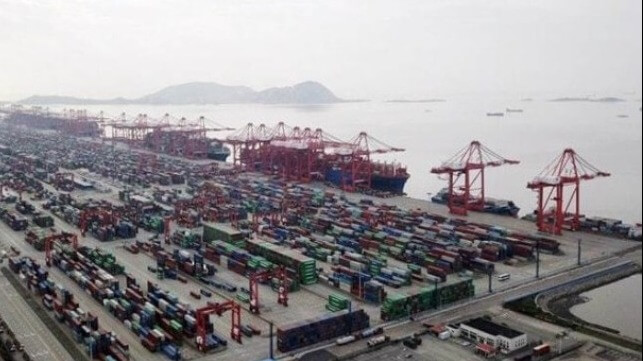 China is taking additional steps in overhauling the country's COVID-19 policies confirming significant changes for travelers, including crew on commercial ships and crew changes, and even possibly moving toward a resumption of cruises. After three years of a strict no COVID policy, the government continues its steps to relax travel bands, requirements for quarantine, and tests, despite a new surge in a variant in parts of the country.
Coinciding with the first phase of the Lunar New Year, China on January 8 reopened its borders for international travel. People entering the country are no longer required to quarantine but must still provide proof of a negative PCR test done at least 48 hours before their travel.
The first travel is expected to be among families many of which have been separated for three years since the travel bans began early in 2020. Hong Kong is already reporting a steady stream of cross-border travel with CNN citing reports that visa applications spiked starting last month after government officials hinted at the coming changes. BBC reports that two billion trips are expected to be made this Lunar New Year, double the number that traveled last year.
As part of the changes, multiple government agencies confirmed that crews from foreign flagged ships are included in the relaxed restrictions. The rules for crew changes reverted mostly to pre-pandemic dropping the requirement for local approvals and testing for all crewmembers. Disembarking crew are still required to take a test 48 hours before leaving the prior port and should remain in that country if they test positive, but with a negative test, they will be permitted to enter China without quarantine or other restrictions. Shore leaves are also permitted.
They are also reporting that surveyors and other functions will also be permitted to resume. Since March 2020 most of those functions were suspended at Chinese ports or the surveyors faced strict quarantines after coming off a foreign ship.
While the shipping industry is welcoming the changes and travelers are expected to rush to schedule trips, many western officials remain skeptical of China's COVID reporting. Many countries are reinstating testing requirements for people inbound from China. Health officials are believed to be downplaying the severity of the cases while reports continue to emerge of overcrowded hospitals and limited medical supplies in parts of China. In China's third most populous province, Henan, for example, it is believed that 90 percent of the population or more than 88 million people have had at least one of the variants of COVID-19.
One sector that is anxiously awaiting word is the cruise industry. All international cruise ships have been barred since early 2020 while most of the domestic industry has also remained suspended. Before the pandemic, China was the largest overall outbound source market for international travel and quickly rising to the top of the cruise industry.
Anticipating a possible resumption of the industry, Carnival Corporation's Chinese joint venture with China State Shipbuilding Corporation (CSSC) reported that it has begun to develop its sales organization. The company's first newly built ship is not expected to enter service till 2024, but before the pandemic, they acquired two cruise ships from Costa. Viking's Chinese joint venture also released itineraries for its 2023 cruises expecting that the travel restrictions will be further reduced.