Slavery: The Confronting Reality of the Top Ten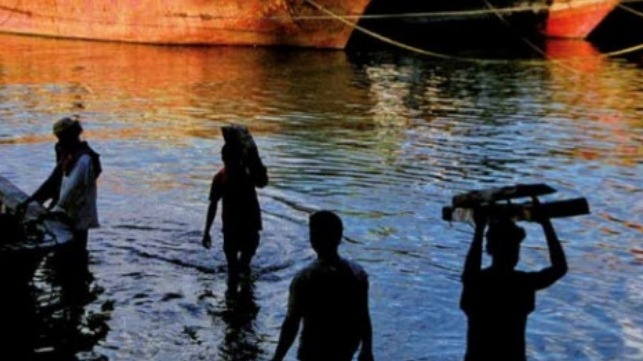 The 2018 Global Slavery Index has been released confirming that modern slavery is a crime that affects all countries globally, including, perhaps surprisingly, highly developed countries.

The Index, produced by the Walk Free Foundation and the International Labour Organization (ILO), together with the International Organization for Migration (IOM), starts by saying: "It is a confronting reality that even in the present day, men, women and children all over the world remain victims of modern slavery. They are bought and sold in public markets, forced to marry against their will and provide labor under the guise of "marriage," forced to work inside clandestine factories on the promise of a salary that is often withheld, or on fishing boats where men and boys toil under threats of violence."
Over 40 million men, women, and children worldwide are trapped in modern slavery, around 25 million in forced labor and 15 million in forced marriage. Modern slavery refers to situations where one person has taken away another person's freedom – their freedom to control their body, their freedom to choose to refuse certain work or to stop working – so that they can be exploited. Freedom is taken away by threats, violence, coercion, abuse of power and deception.
The 2018 Global Slavery Index estimates that 403,000 people are living in modern slavery in the U.S., or one in 800 Americans, seven-times higher than previous estimates. The prevalence of modern slavery in the U.K. is almost 12-times higher than previous figures. The Index estimates that there are 136,000 people living in modern slavery in the U.K., equating to 2.1 victims for every 1,000 people in the country.
"The responsibility that developed countries have for modern slavery, revealed by this new data, is a huge wake-up call," said Andrew Forrest, the Australian philanthropist and businessman who founded the Global Slavery Index. "The pressure to respond to this appalling human crime must shift from poorer countries to richer nations that have the resources and institutions to do much better. It is flourishing right under our noses.
"It's widely accepted that most crimes go unreported and unrecorded, because the victims are marginalized and vulnerable, and the black economy thrives where accountability is absent. This report demonstrates, straight from the mouths of some of the 40.3 million victims of modern slavery, that these deplorable crimes continue happening out of sight, and at a tragic scale.
"We cannot sit back while millions of women, girls, men and boys around the world are having their lives destroyed and their potential extinguished by criminals seeking a quick profit."
The 10 countries with the highest prevalence of modern slavery are:
North Korea
Eritrea
Burundi
the Central African Republic
Afghanistan
Mauritania
South Sudan
Pakistan
Cambodia
Iran
The 10 countries with the largest estimated absolute numbers of people in modern slavery include some of the world's most populous. Collectively, these 10 countries – India, China, Pakistan, North Korea, Nigeria, Iran, Indonesia, Democratic Republic of the Congo, Russia, and the Philippines – account for 60 percent of people living in modern slavery and over half the world's population.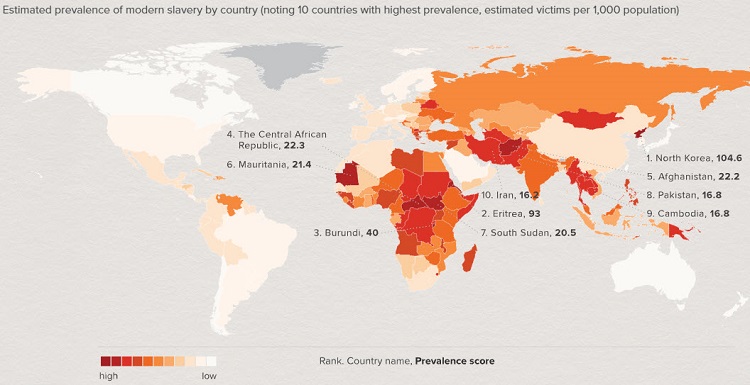 The Index also reveals developed countries are heavily exposed to the risk of slavery within their supply chains. G20 countries annually import over $354 billion 'at risk' products, produced from sectors in countries where people are subjected to forced labor.
China was by far the largest source of at-risk goods, Vietnam second and India third. Smaller values of goods were also sourced from Malaysia, Thailand, Brazil, Argentina, Japan, Taiwan, South Korea, Russia, Ghana, Ivory Coast and Peru.
The U.S. is by far the largest importer of at risk products ($144 billion). The US figure is three times that of the second largest G20 importer Japan ($47 billion), while Germany ($30 billion), the U.K. ($18 billion) and France ($16 billion) complete the top five.
The research found laptops, computers and mobile phones proved to be the largest category of at risk imports by dollar value ($200.1 billion), followed by garments ($127.7 billion), fish ($12.9 billion), cocoa ($3.6 billion) and sugar cane ($2.1 billion).
Fiona David, executive director of research at the Walk Free Foundation, said: "The prevalence of modern slavery is driven through conflict and oppression, but it's also derived in more developed countries from consumer demand for the latest goods at the best possible price. We need different strategies in different regions to address the many drivers of modern slavery. The common element is that every country must act."
In 2018, the 10 governments taking the most action to respond to modern slavery are:
The Netherlands
United States
United Kingdom
Sweden
Belgium
Croatia
Spain
Norway
Portugal
Montenegro.
Those taking the least action to combat modern slavery are:
North Korea
Libya
Eritrea
Central African Republic
Iran
Equatorial Guinea
Burundi
Congo
Sudan
Mauritania.
12 G20 countries are yet to formally enact laws or policies to stop businesses sourcing goods from forced labor, despite the G20 last year committing to improve human rights due diligence in corporate operations and supply chains. Australia, Brazil, China, France, Germany, Italy, U.K. and U.S. have all introduced or are taking steps to introduce laws that would tackle modern slavery.