Singapore and Malaysia Face Off Over Johor Baru Port Boundaries
Singapore and Malaysia have deployed their coast guard and naval patrol vessels to stake out competing claims in the waters between Tuas and Johor Baru Port, two terminal complexes on either side of the Johor Strait.
In late October, Malaysia declared that it was expanding the maritime boundaries of Johor Baru to the east, towards Tuas. Singapore immediately objected, asserting that the new limits encroached on Singaporean waters. In late November, the Malaysian Maritime Enforcement Agency (MMEA) deployed its vessels to patrol the waters between Johor and Tuas, prompting complaints from Singapore about "intrusions" into Singapore-claimed areas. "Singapore has protested the unauthorised movements of, and purported assertions of sovereignty by these vessels, which are inconsistent with international law," Singapore's Ministry of Transport claimed on December 4.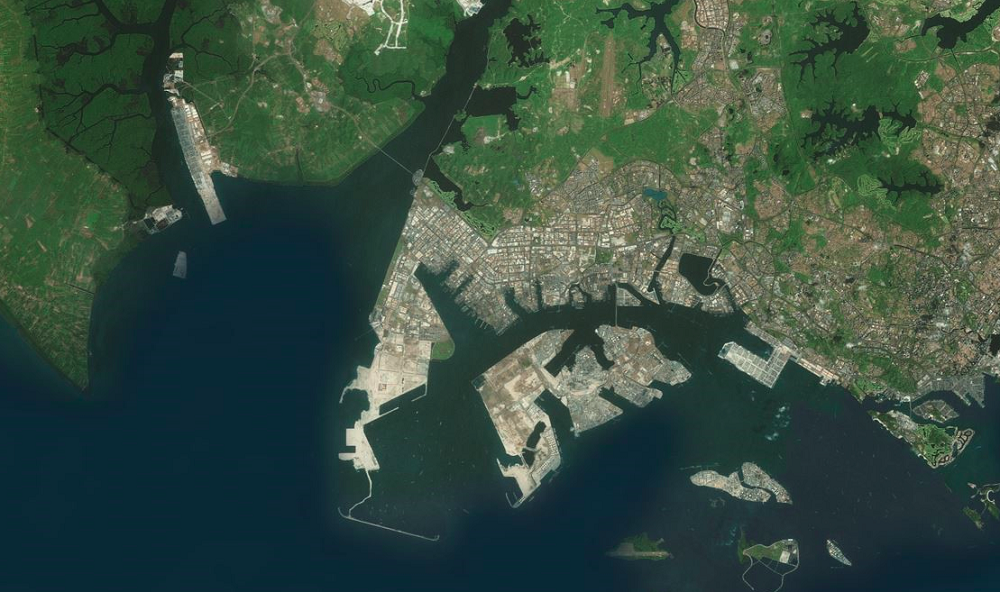 Reclaimed peninsula of Tuas, center left, and Tanjung Pelepas, upper left (Zoom Earth)
Singapore has also deployed its vessels to the area, including the USS Unity, a 1,200 tonne naval patrol vessel. Singapore asserts that its security forces have been "exercising restraint" in their patrols of the contested area, but the deployments have prompted protests from Malaysia's government.
Malaysian Prime Minister Mahathir Mohamad has asserted that his government's newly-enlarged port limits for Johor Baru do not infringe on Singapore's maritime boundaries. Singapore, for its part, claims that its "territorial waters do extend westward" of the current port limits around Tuas, and it considers the new Malaysian claim a "serious violation of Singapore's sovereignty and international law."
Since 2002, Singapore has been enlarging the Tuas complex through a series of extensive land reclamation programs, and Malaysian Transport Minister Anthony Loke asserts that this is at the root of the disagreement. This form of dispute is not unusual: international law generally accepts the use of reclaimed land as a portion of the baseline for a maritime boundary claim, but Malaysia may decide not to acknowledge it. "Negotiating States also may, and often do, discount otherwise legitimate baseline features in the process of boundary delimitation," according to international boundary consultant Coalter D. Lathrop.