Sea Shepherd's newly renamed vessel, the M/V John Paul DeJoria, arrived in Costa Rica on Saturday to assist the Central American country in controlling illegal fishing in the waters surrounding its Cocos Island National Park.
The M/V John Paul DeJoria is a 110-foot Island class former U.S. Coast Guard patrol boat which was relaunched in January this year. Sea Sheperd is supplying crew, fuel and provisions, but Costa Rican rangers will command operations.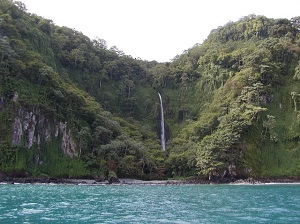 Cocos Island, some 300 miles off the coast of Costa Rica, is home to many large marine species such as hammerhead sharks, rays and dolphins. It is a popular destination for scuba divers and for illegal shark fin fishing operations.
Sea Shepherd has worked rangers from the nearby Central American islands of the Galapagos Corridor for 17 years.
"Our overall long term plan is to build a partnership with Panama, Costa Rica, Ecuador and France to help protect Coiba, Cocos, the Galapagos, Malpelo and Clipperton Islands," said Sea Shepherd founder, president and CEO, Captain Paul Watson. "That partnership would entail providing each island with patrol boats and assets to reduce poaching activities to zero."
The M/V John Paul DeJoria is a 110-foot Island-class fast patrol boat. The former U.S. Coast Guard patrol vessel first joined Sea Shepherd's fleet in 2015 named the M/V Jules Verne. The vessel has been renamed after longtime supporter and co-founder of John Paul Mitchell Systems salon products. "From the top of the highest mountain to the bottom of our deepest sea, all of earth's creatures deserve to thrive, not barely survive," said DeJoria in January.
DeJoria, also a guest investor on the ABC reality series Shark Tank, has a long-standing relationship with Sea Shepherd. In 1998, he traveled to the Gulf of St. Lawrence with the conservation society to stand against the Canadian Seal Hunt. His close relationship to Watson led DeJoria to issue a video in support of Watson after the latter was arrested on a warrant issued by Costa Rica in 2012 for interfering with shark finning.
An advisory board member to Sea Shepherd, DeJoria also sponsored the purchase of organization's M/V Farley Mowat. That ship, currently on an anti-poaching mission in the Sea of Cortez, bears the logo of DeJoria's JP's Peace, Love & Happiness Foundation, which supports charities that promote environmental sustainability, social responsibility and the protection of animals.