Salvors Refloat Grounded Rig Transocean Winner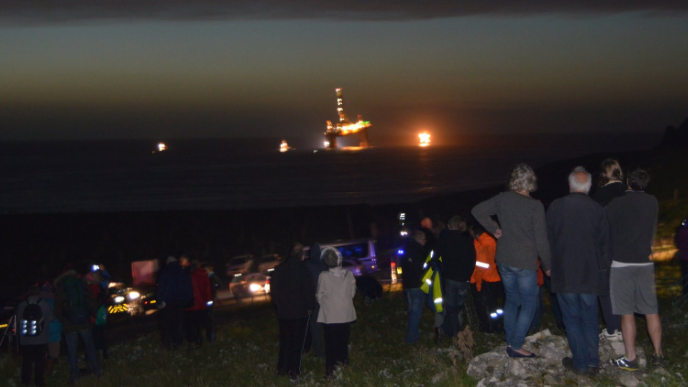 The grounded drilling rig Transocean Winner has been successfully refloated and towed away from the rocky shore where it went aground two weeks ago.
The semisubmersible came free on a rising tide just after 2200 hours local time on Monday, pulled by the anchor handling tugs Union Bear and Union Princess. As of 0130, the two vessels were making one knot northwards just off Carloway, accompanied by the salvage tugs Forth Warrior and Forth Drummer.
Salvage master Sylvia Tervoort told the BBC before the salvage that "we could have used just one tug, but we have chosen to use two. We are not completely sure about the seabed and the pinnacles sticking in the rig. There are always things in salvage for which you can't account."
Police put restrictions in place to limit road traffic nearby and foot traffic on the headlands near the site for reasons of safety.
The Winner is being towed to Broad Bay on the east side of the Isle of Lewis and should arrive tomorrow. It will be anchored there for several weeks while salvors evaluate the damage to its structure. At the time of the grounding, the Winner was bound for lay-up in Malta and eventually for a scrapyard. The damage survey will determine what repairs the rig will need before continuing on its final voyage.
Over the weekend, salvors with Smit and Transocean transferred diesel fuel from the Winner's pontoon fuel tanks to higher tanks, away from the skin of the hull. They then transferred 200 tonnes of diesel to the platform support vessel Olympic Orion.
The rig lost 12,000 gallons of fuel in the grounding, but there has been no sign of pollution and authorities believe that the petroleum product evaporated.
The Transocean Winner went aground on a headland of the Isle of Lewis, Scotland on August 8. The rig was in transit bound for Malta, towed by the anchor handling tug Alp Forward, and the tug lost the tow in severe weather. The Alp Forward was unable to reestablish a connection and high winds blew the Winner aground.