Record Number of Cruisers Visit Baltic Ports
2017 was a record year for the Baltic cruise industry, according to Cruise Baltic's latest market review.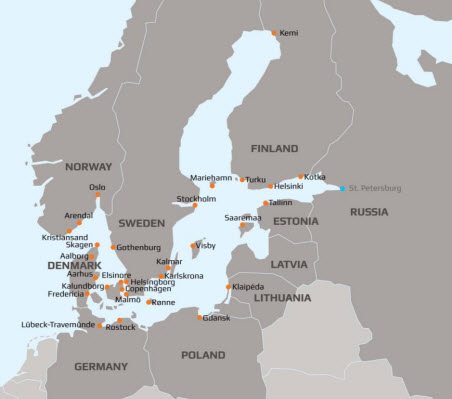 Member ports welcomed over five million passengers from 37 cruise lines in 2017, a 16.6 percent increase over 2016 numbers. The total number of day calls rose 15.4 percent, and the number of turnarounds increased by four percent.
Cruise Baltic attributes the growth to the high service levels provided by ports. Additionally, the close proximity of ports means that several capitals can be visited in a one-week cruise, offering a variety of cultural experiences with locals that speak English.
In 2017, launched a new strategy for 2017-19, which largely focuses on sustainability and innovation in the Baltic region.
Visitor numbers have been growing by around nine percent since 2000, and passenger numbers are expected to grow another 8.4 percent in 2018.
In 2019, Holland America Line's new vessel Nieuw Statendam is expected to further boost numbers when she embarks on a series Baltic cruises with ports of call including Copenhagen, Warnemunde (Berlin), Tallinn, Helsinki, Stockholm and St. Petersburg, Russia.
According to Cruise Baltic, the Baltic Sea region offers an impressive array of UNESCO acclaimed sights, ready to be marvelled at – and explored.
DENMARK
The Cathedral in Roskilde Copenhagen - Burial place of the Danish Royal Family from the 15th century – till today.
Kronborg Castle Elsinore - Shakespeare's world famous "Home of Hamlet". Magnificent renaissance castle.
Jelling Mounds - Runic Stones and Church, 10th century Viking Kings burial mounds.
Wadden Sea - Serene, undisturbed wetland stretching through the coasts of Denmark, Germany, and Netherlands.
Stevns Klint - Exiting fossil coast with evidence of a 65 million year old meteorite crash, reputed to have caused the extinction of the dinosaurs.
Christiansfeld - One-of-a-kind Moravian church settlement from 1773, named after Danish King Christian VII.
The par force hunting landscape in North Zealand - Baroque landscaped hunting forests and park used by the Danish Kings and court in the 17th and 18th centuries.
SWEDEN
Vitlycke Rock Carvings Gothenburg - Supreme, unsurpassed example of Bronze Age art of the very highest quality.
Southern Öland Kalmar - Unique agricultural landscape and exceptional flora and fauna.
World Heritage City of Karlskrona - Outstanding late 17th century European planned naval city, the original plan and many buildings are intact.
Drottningholm Palace and Theatre Stockholm - The beautiful, private residence of the Swedish Royal Family, built in late 16th century, on an idyllic island.
Woodland Cemetery Stockholm - 250 acres of pine-covered boulder ridge, serene Nordic ambience, beautiful chapels, built 1915-1940.
Hanseatic Town of Visby - Medieval houses, ruins and cobblestone streets, a place where past meets present.
Birka and Hovgården - Viking settlement from the 8th century in Sweden's oldest town.
Church Town of Gammelstad, Luleå - Exemplary 15th century church town with over 400 cottages to house worshipping travelers.
Laponian Area - Pristine, untouched landscape and wildlife in the Arctic Circle.
Grimeton Radio Station, Varberg - Still operational radio centre, unique showcase of telecommunication development after the First World War.
FINLAND
Suomenlinna Sea Fortress Helsinki - One of the biggest sea fortresses in the world.
Struve Geodetic Arc Kemi - Alatornio church, measuring point of the exact size and shape of planet Earth.
Verla Mill Museum Kotka - A living monument to the early days of Finnish forestry, set in an idyllic village.
Old Rauma - One of the few medieval towns in Finland, rich Nordic architecture from several historical periods.
Bronze Age Burial Site of Sammallahdenmäki - Archaic 3,000-year-old burial site exhibiting Bronze Age funeral traditions and Sun worship
ESTONIA
Tallinn Medieval Old Town - 13th to 16th century town, guard towers, impressive churches, courtyards and colourful, gabled houses.
LITHUANIA
Curonian Spit Klaipeda - Europe's highest sand dunes, unspoiled natural beauty in national park, with fishermen's villages and pine forests.
POLAND
Malbork Castle Gda?sk - Lurking by a river, this impressive brick castle is one of Europe's most imposing medieval defensive structures.
The Slovinski National Park Gda?sk - Maintaining a unique, moving dune belt of spits, also preserves lakes, bogs, meadows, seaside forests.
Medieval Town of Torun Gda?sk - 14-15th century trading city, remarkably preserved, outstanding early buildings, e.g. the house of Copernicus.
GERMANY
Speicherstadt and Kontorhaus District with Chilehaus - One of the largest coherent historic ensembles of port warehouses in the world.
Town Hall and Roland on the Marketplace of Bremen - Representatives of civic autonomy as they developed in the Holy Roman Empire.
Historic Cities of Stralsund and Wismar - Major medieval trading centres in the 14th and 15th centuries, stunning Hanseatic architecture.
Jasmund National Park Rostock/Sassnitz - Largest chalk cliffs in Germany: "Königsstuhl "( The King's Chair), in beech forests. 118 m high cliffs oversee the Baltic Sea.
Hanseatic City of Lübeck - Prominent merchant city during the Hanseatic League, today still thriving with rich history.
Palaces and Parks of Potsdam and Berlin - Impressive parks with over 150 buildings and iconic Palace Sanssouci also known as the Preussian Versailles.
Museumsinsel (Museum Island) - Island in the heart of Berlin boasting several iconic museums established in the Age of Enlightenment.
Berlin Modernism Housing Estates - Unique examples of socialist housing in Berlin built during the Weimar republic.