PSA Plans Investment in Germany's New Duisburg Inland Port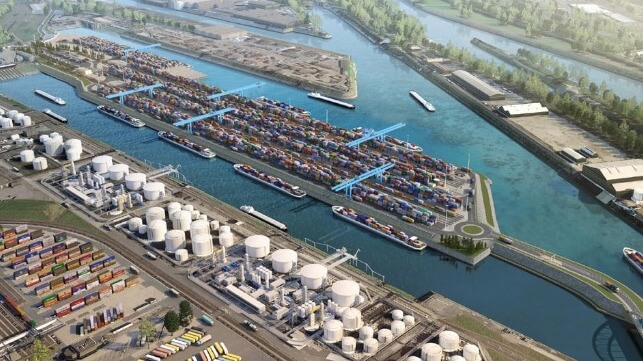 Singapore's PSA International, already a major global port operator, looks to expand its position in Europe with the acquisition of a stake in Germany's inland Duisburg Gateway Terminal. PSA follows COSCO which made a major investment in Germany but which had withdrawn from the Duisburg project.
PSA signed an agreement to acquire a 22 percent take in Duisburg Gateway Terminal GmbH (DGT), the development company for the new inland container terminal. PSA joins Hupac, HTS, and Duisport as shareholders of DGT. Last fall, COSCO sold its 30 percent stake in DGT back to Duisport. No explanation was offered for the sale, but at the time COSCO was addressing concerns from the German government which moved to limit the Chinese company's investments, including lower the percentage ownership limit for the Hamburg terminal to under 25 percent. COSCO completed its investment in June 2023 acquiring the position in Hamburg's Container Terminal Tollerort (CTT).
Duisburg is already a key center for Asian trade with reports saying that over 30 daily trains arrive from China in the port. It is part of China's New Sil Road initiative.
The development plans call for Duisburg to be the largest inland container port in the world. The new terminal, the first phase of which is due to open in the first quarter of 2024, will encompass over 2.5 million square feet. The port has 21 docks with nine container terminals already handling 4 million TEU annually. The port, located on Germany's Rhine river, handles over 58 million tons of cargo annually. The new DGT terminal is also being billed as the first 100 percent climate-neutral inland container terminal in Europe.
"Leveraging PSA's global ports and supply chain network as well as its strong presence in continental Europe, PSA aims to strengthen the DGT partnership and support Germany's green energy transition in line with our strategic focus towards enabling smoother, more resilient, and sustainable trade," said Tan Chong Meng, Group CEO of PSA, announcing plans for the investment.
In addition to its operation in Singapore, PSA already has a major presence in Europe in Belgium as well as terminals in Italy, Portugal, and Poland. PSA operates a total of 60 deep sea, rail, and inland terminals across 160 locations in 42 countries.
The investment in DGT is subject to the approval of Germany's competition and supervisory authorities.