COSCO's Investment in Hamburg Terminal Finalized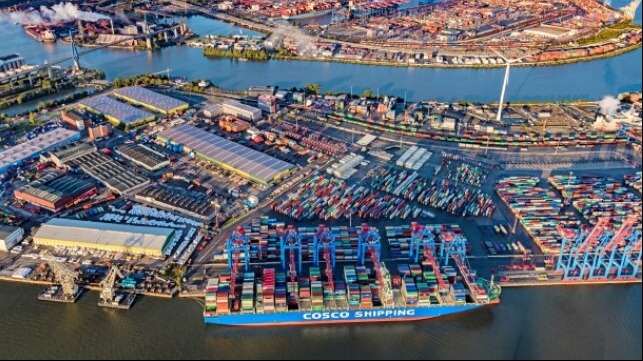 COSCO Shipping Ports Limited and Hamburger Hafen und Logistik completed the terms of the investment to be made by the Chinese company into one of Hamburg's largest container terminals. The deal first announced in September 2021 has been long delayed while Germany's government debated the level of investment with political complaints that the Chinese would be taking control of a critical part of Germany's supply chain.
The companies reported they signed the revised agreement today, June 19, after the decision from the German government that would permit an investment of less than 25 percent which was confirmed in May. COSCO reports following discussions with the German Federal Ministry of Economic Affairs and Climate Action, the agreement was completed. According to a stock exchange filing, COSCO will purchase more than 1.9 million shares, representing 24.99 percent for €46.4 million. In addition, there is the settlement of a loan valued at €24.4 million.
The operator of the terminal promoted that through the investment in Container Terminal Tollerort (CTT), it would become a preferred hub for Asian traffic in the North Sea and Baltic Sea regions. They highlighted that COSCO has been operating at the port of Hamburg for 40 years.
"In view of the competition between the ports in the North Range, it is crucial for Hamburg's positioning to secure cargo volumes. Every third container that is handled in Hamburg comes or goes to China," HHLA said in presenting its argument for the approval of the investment.
The proposed investment which called for COSCO to acquire a 35 percent stake, however, became a political issue. Under German law, since 2018 CTT and HHLA as its operator have been registered as an operator of critical infrastructure with regard to IT in Germany. They however highlighted that the terminal was not deemed to be critical infrastructure according to the regulations in 2021.
As part of the political debate, the rules were changed in 2022 adding a new category of critical infrastructure that includes port and inland terminals with a freight volume of 3.27 million tons or more per year. The German government ultimately agreed to the lower level of investment.
HHLA highlights that while the investment has strategic advantages as COSCO plans to increase volumes at the terminal, they will not have any direct input in the operations. They will not have access to the terminal's technology and no involvement in port operations.
Globally Chinese investment has been called into question in the past few years. Critics of China's growing influence cite these investments and question the role of the central government.