On Thursday, hundreds of protesters in Satun province, Thailand shut down a community hearing on the Pak Bara port project, a proposed deep-sea terminal on the country's west coast. Thai defense minister Prawit Wongsuwon ordered the military to secure the meeting venue, and hundreds of officers were dispatched to enforce order. However, the protesters occupied the area overnight on Wednesday and ultimately forced the authorities to cancel the hearing.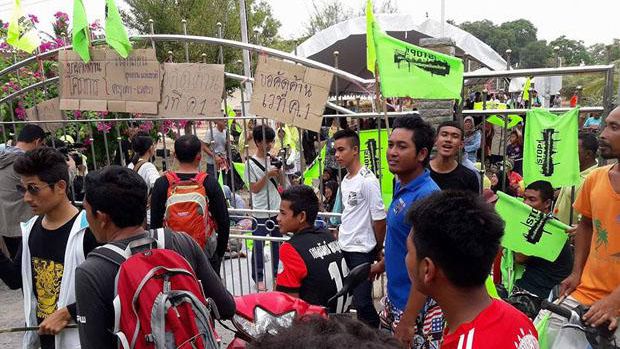 Maj. General Jetthapat Sriwong, commander of the province's internal security forces, announced the meeting's cancellation at 1500 hours this afternoon.
"After discussions with the project owner, the Marine Department, we have agreed to cancel the public hearing forum today," Jetthapat told the assembled crowd. "However, I would like the opposition groups to answer why they want the forum to be cancelled. I do not want to see people turn against each other because of this conflict."
Protest organizers are demanding a thorough environmental impact review before the port project moves forward. They are concerned that the construction of the terminal would damage the natural environment, which is the foundation of the area's tourism industry.
Thailand's main container port, Laem Chabang, is located near Bangkok on the Gulf of Thailand. It handles about six million TEU per year, and it is approaching its maximum capacity. Proponents of the new port at Pak Bara say that it would relieve the pressure at Laem Chabang and give Thai shippers easier access to markets in Africa, India and Europe by allowing them to bypass the Strait of Malacca.
The ambitious port plan would require land reclamation to create a 115-acre artificial island, plus a 2.5 mile concrete causeway to connect it to shore. After the first phase of construction, the port would be able to handle about 800,000 TEU per year. The Thai government says that it could eventually be expanded to a capacity of nearly nine million TEU.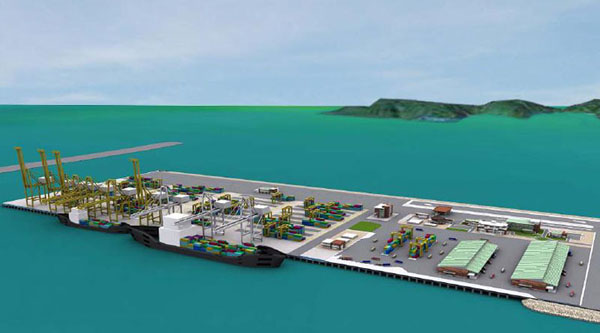 Port of Pak Bara (government illustration)