Ferry Crew Rescues Survivors from Sinking Boat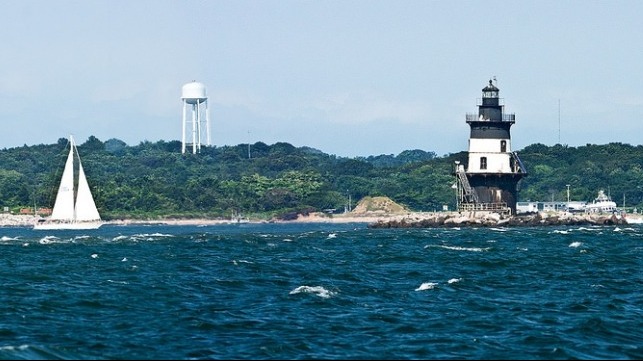 On Saturday, the ferry J.J. Callis helped rescue three men from the waters of Long Island Sound after their 1963-built Chris Craft launch foundered.
The local police in Southold Town, New York, a township at the northeastern end of Long Island, received a call from one of the men on the boat on Friday evening. He reported that the launch was going down in the channel between Greenport and Shelter Island. Dispatchers directed shoreside patrol units and the North Ferry - a small car ferry that runs across the channel - to keep watch for the boat. The search teams could not locate it, and dispatchers determined that the distress call had actually originated from Plum Gut, a channel in Long Island Sound between Orient Point and Plum Island.
The Southold dispatchers called for assistance from the Suffolk County Police Department's Aviation Unit and from the ferry J.J. Callis, a government-owned vessel that serves the federal research facility at Plum Island. By the time that first responders arrived on scene, the launch had gone down, and two of the three men on board had drifted away. The owner, Michael C. Signa, 36, was a quarter-mile away, and the crew of a local fire department rescue boat found him clinging to a floatation cushion.
Passenger Steven DiStefano, 36, managed to stay on the bow of the boat, which was the only section remaining afloat. The crew of the J.J. Callis rescued him and set out to find the third passenger, Patrick Brinker, who had floated out of sight. Conditions on scene were poor for a SAR effort, with wave height of four to seven feet and winds of about 20 knots, but after a short search the Callis' crew spotted Brinker and hauled him aboard.
All three survivors were treated for hypothermia but were otherwise unharmed. One fireman was slightly injured during the rescue effort.
Local police reported that the boat had likely struck a rock on the west side of Plum Gut Lighthouse, breaching its hull and sending it down. The Coast Guard has been notified of the wreck location.