Platform Spills Oil Near Houston Ship Channel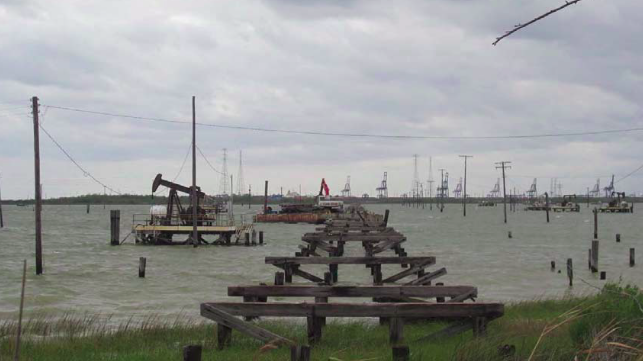 On Wednesday, the U.S. Coast Guard launched an oil spill response effort at Tabbs Bay, Texas after reports of a three-mile long slick.
Texas' General Land Office notified the USCG's Sector Houston-Galveston Incident Management Division of the spill on Tuesday evening. An estimated 40 barrels (1,700 gallons) of crude leaked out of a deteriorated valve on a platform owned by Siempre Energy, the service said. According to online drilling databases, the firm operates about four dozen wells in Tabbs Bay, and court records show that it filed for bankruptcy last November.
An oil recovery contractor has been hired and is currently on scene. The source of the leak has been shut off, and about 25 barrels of the spilled crude have already been recovered. Video from the scene showed a boat launch and park closed off with containment boom and a worker removing oil from the surface with absorbent pads.
Tabbs Bay is a shallow area between Baytown, Texas and the Houston Ship Channel, and it is home to multiple aging or defunct rigs, derrick platforms and service docks. The Texas General Land Office has overseen a long-rrunning, federally-funded project to remove and remediate some of the outdated petroleum infrastructure in the area and improve waterfront access.