North Sea Production: Emissions Down, Chemical Discharges Up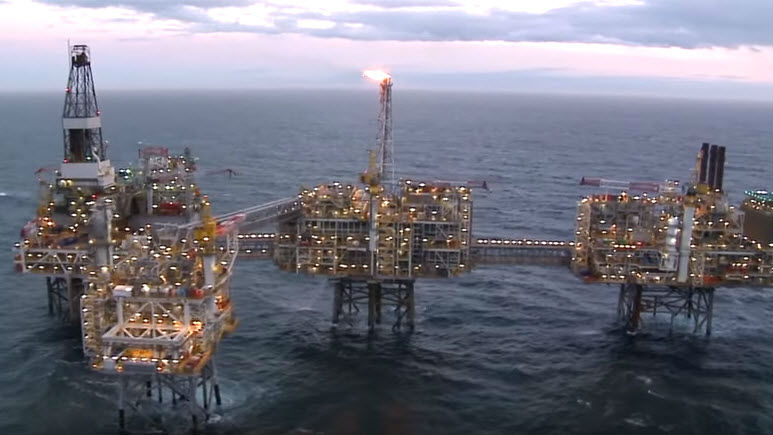 North Sea oil and gas production is up, but greenhouse gas emissions were down against 2015 performance, according to Oil & Gas UK's latest Environment Report. However, increased production led to a three percent rise in the amount of production chemicals discharged.
Total greenhouse gas emissions from U.K. upstream operations decreased in 2016 by nearly one percent to 14.6 million tons of carbon dioxide (CO2) equivalent, contributing three percent of the U.K.'s total emissions. Despite the increase in production last year, the decommissioning of platforms that used older turbine technology coupled with the commissioning of new, energy efficient installations has led to this decreased emissions footprint.
Since its peak in 2013, CO2 emissions per unit of production (carbon intensity) on the U.K. Continental Shelf also continue to fall to 21,000 tons per million barrels of oil equivalent (boe) produced. Improved production efficiency from existing assets has driven this trend, rising from a low of 60 percent in 2012 to 73 percent in 2016.
Over 1.2 million tons of gas were flared in 2016, a two percent increase on 2015. The amount of gas released through venting declined by 12 percent in 2016, down to 37,000 tons. Overall, the proportion of associated gas flared and vented has continued to fall since 2014, as newer installations are designed to flare less, and older platforms with routine flaring built-in are decommissioned.
The amount of produced water discharged to sea in 2016 was down by six percent on the previous
year to 155 million cubic meters as more was reinjected. Reinjection of produced water was up 30 percent on 2015 to 48 million cubic meters and is at its highest recorded level, as more companies deploy techniques to enhance oil recovery. Around 2,000 tons of oil was discharged to sea with produced water, making up just over 0.001 percent of the total mass of produced water discharged.
In 2016, there were 520 unplanned releases of oil and chemicals to the marine environment with a total mass of around 370 tons. Of these, 287 were unplanned releases of almost 115 tons of oil. This represents less than 0.00014 percent of total production and less than six percent of the total oil that entered the marine environment in produced water.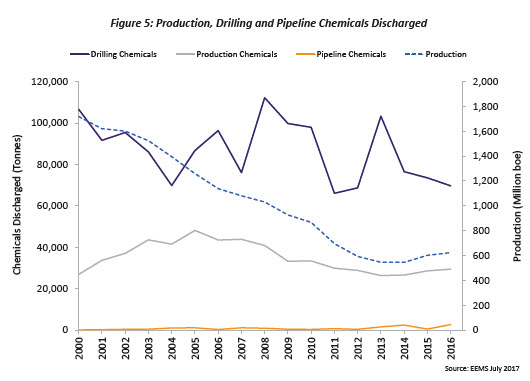 163 tons of chemicals were discharged to sea per million boe produced in 2016, reflecting a decline in
chemicals used for drilling, as activity fell to 110 wells last year. Increased production caused a three percent rise in the amount of production chemicals discharged. However, this proportion was lower than the five percent rise in production.
Of the chemicals discharged to sea, 72 percent were classified as those that Pose Little Or No Risk (PLONOR). Six percent of discharged chemicals carried a substitution (SUB) warning, an increase in 2016. Operators are obliged to phase out, where practical, the use of all SUB chemicals by the end of 2017. However, there may not be a similar substance currently available that can do the same task to the required performance standard. In this case, operators are permitted to continue to use SUB chemicals.
Almost 258 tons of chemicals were accidentally released in 233 incidents in 2016. Of these, the majority (215 tons, 84 percent) were low hazard. Unplanned chemical releases represented less than 0.1 percent of the total mass of chemicals used and 0.25 percent of the chemicals intentionally discharged under permit. In 2016, the average mass of chemicals per release was 1.1 tons, compared to an average of 2.3 tons from 2010-16.
The mass of drill cuttings discharged to sea fell by four percent in 2016 to 40,300 tons, as the level of drilling, specifically for development wells, saw a substantial decrease.
The amount of waste generated through the U.K.'s upstream oil and gas activity fell by 22 percent to under 170,000 tons in 2016 – the lowest in a decade. This was primarily due to reduced operational waste.
Louise O'Hara Murray, Environment Manager with Oil & Gas UK, said: "The U.K. Continental Shelf is a mature basin where exploration and production is challenging and more energy and chemicals are needed to extract hydrocarbons. However, we are continuing to manage industry's emissions and discharges.
"The overall trend captured in our Environment Report shows that discharges, emissions and accidental releases are still trending downwards. While production has gone up, emissions and discharges have not gone up by the same proportion. This shows that we are managing them appropriately."