Nigerian Attack Helicopter Destroys Oil Theft Tanker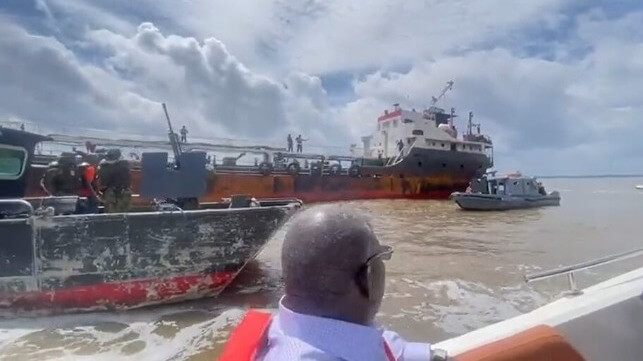 Nigerian authorities have seized and destroyed a small tanker for allegedly stealing oil from an offshore well in Ondo State.
The tanker, identified as the Tura II (ex name Ali Riza Bey, IMO 6620462), was captured by contractor Tantita Security Services at an offshore location, according to NNPC. After the vessel was seized and the crew detained, the ship was destroyed by a Nigerian military helicopter, without court proceedings. Video footage was captured by security personnel.
"There was no valid documentation for the Vessel or the crude oil cargo on-board at the time of the arrest," said Nigerian National Petroleum Company spokesman Garba Muhammad in a statement. "Further investigation into the activities of the vessel at the NNPC Ltd. Command and Control Centre also revealed that the vessel has been operating in stealth mode for the last 12 years. The last reported location of the Vessel was Tin Can Port in July 2011."
The vessel was last detected by shoreside AIS receivers in June 2014, off the coast of Lagos.
Tura II was a 1965-built coastal tanker with a capacity of about 900 dwt (misreported in Nigerian media as 150,000 dwt). Her owner is not listed in the Equasis database.
The rampant oil theft found in the Niger Delta littorals has worsened in recent years, and has become a significant political issue. The nation's oil theft problem is decades old and has proven exceptionally resistant to suppression, due in part to the involvement of political and military elites.
Private outfit Tantita Security Services, headed by former Delta State rebel leader Tompolo, was brought in for its first-hand knowledge of the pipeline network (Tompolo's group used to sabotage it with explosives). Tantita has been successful in identifying a substantial number of illicit taps in the Niger Delta, including siphoning systems that steal from Shell's 48-inch Trans-Forcados export trunk line.
"Many of the security people are involved because there is no way you can load a vessel without settling [bribing] the security people in that region," Tompolo told Nigeria's Channels TV last year, adding that many illegal taps were located in areas with heightened army or navy presence.
Tantita Security Services also captured and swiftly destroyed a similar tanker in October 2022. Critics of government corruption have questioned why the illegal tankers were burned so quickly, without any effort to secure evidence on board relating to their ownership or operations. Beyond the arrest of the crew, no further investigations are planned, according to NNPC.