The U.S. Bureau of Ocean Energy Management (BOEM) has announced that 79,350 acres offshore New York will be offered in a December 15 commercial wind lease sale.
The New York Wind Energy Area starts approximately 11.5 nautical miles (nm) from Jones Beach, NY. From its western edge, the area extends approximately 24 nm southeast at its longest portion. The lease area consists of five full Outer Continental Shelf blocks and 143 sub-blocks.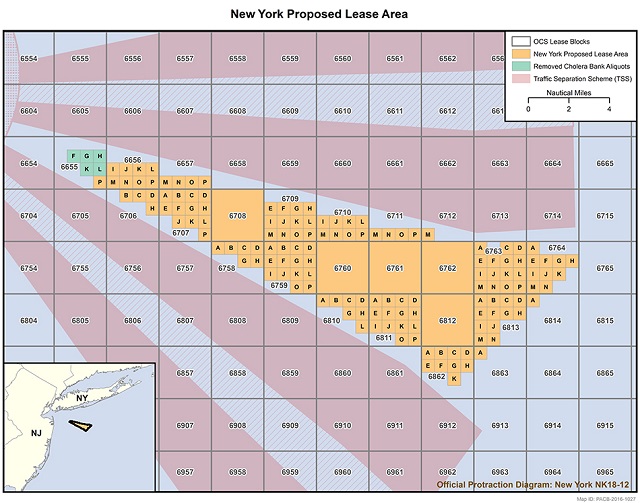 To date, BOEM has awarded eleven commercial wind leases, including nine through the competitive lease sale process. These lease sales have generated more than $16 million in winning bids for more than a million acres in federal waters.
"New York is a critical component in building a robust U.S. offshore wind industry," said BOEM Director Abigail Ross Hopper. "The process to develop and refine the New York lease area, as well as the online auction, reflects the deep commitment BOEM has to listening and responding to stakeholders and ensuring that all voices are heard as we forge a path to a clean energy future."
After reviewing comments received on the Environmental Assessment, BOEM removed about 1,780 acres from the lease area due to environmental concerns regarding a seafloor feature known as the Cholera Bank. In a comment letter, the National Marine Fisheries Service identified the Cholera Bank feature as a sensitive habitat to be avoided for the placement of structures. As a result of this removal, the revised lease area will be approximately two percent smaller than the lease area considered in the Proposed Sale Notice.
In response to concerns raised by commercial fishing interests, BOEM also has included a lease requirement for the lessee to develop a publicly available Fisheries Communications Plan and work with a Fisheries Liaison to facilitate communication with the fishing industry.
BOEM has identified 14 companies that it deems legally, technically and financially qualified to participate in the upcoming lease sale:
Avangrid Renewables, LLC
CI-II NY Inc.
DONG Energy Wind Power (U.S.) Inc.
Innogy US Renewable Projects LLC
wpd offshore Alpha LLC
Deepwater Wind Hudson Canyon, LLC
Energy Management, Inc.
Convalt Energy LLC
Clean Power Northeast Development Inc.
New York State Energy Research and Development Authority
Statoil Wind US LLC
EDF Renewable Development, Inc.
Fishermen's Energy, LLC
Sea Breeze Energy LLC
A strategic plan to continue accelerating the development of offshore wind energy in the U.S. was released in September. More information is available here.