New Lifting Technique Tested for Offshore Installations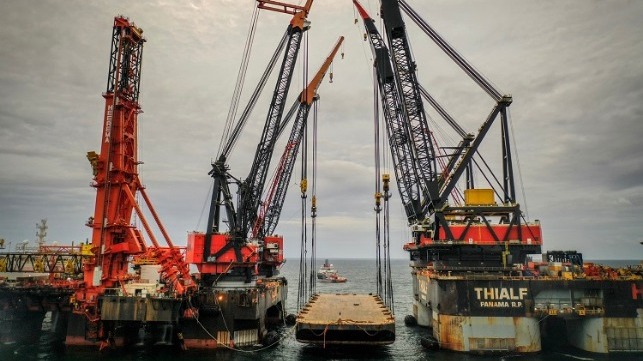 Heerema Marine Contractors (HMC) has tested a unique way of lifting that it says will redefine the boundaries of lifting operations offshore.
QUAD lifting enables HMC to integrally install and/or remove oversized topsides or jackets, and the method was tested successfully on October 22, 2018 in the Gulf of Mexico. It is suitable for installing topsides on any type of foundation; from jackets to floaters.
The test involved two dynamically-positioned vessels with four cranes working in parallel: Thialf and Balder, two of the world largest semi-submersible crane vessels, both owned and operated by Heerema. As soon as Sleipnir, the largest semi-submersible crane vessel ever built, is in full operation, the company says it will be ready to perform the ultimate QUAD lift using its two giants with a combined lifting capacity of Thialf's 14,000mt and Sleipnir's 20,000mt.
HMC says topsides and jackets can now also be designed in a different way with more freedom for the engineers in terms of layout in relation to weight and dimensions. In addition, the QUAD lifting method offers the possibility to build the topside onshore as a total package including the commissioning. This would result in substantially lower overall project costs.
The new QUAD lifting method underwent a certification process carried out by DNV GL.