New British Carrier Meets Up with USS George H.W. Bush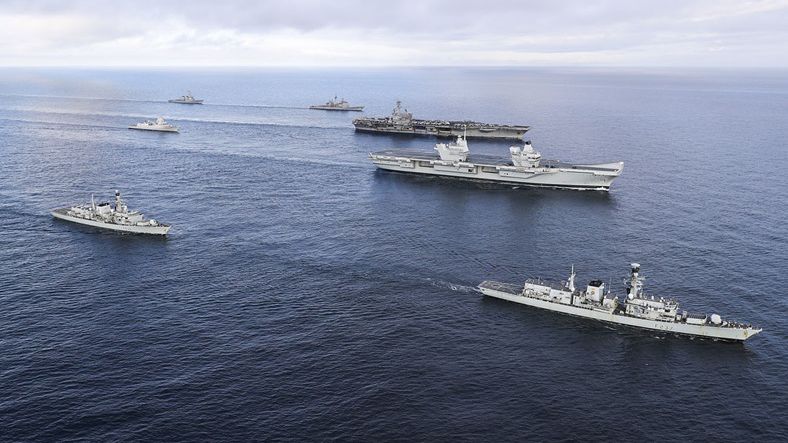 Ahead of her first entry to Portsmouth, the newly built HMS Queen Elizabeth met up with the USS George HW Bush and her carrier strike group off the coast of Scotland.
The Nimitz-class US carrier has more than 60 Royal Navy sailors and Royal Marines on board, who have been working with their American counterparts to hone carrier strike skills ahead of HMS Queen Elizabeth's entry into service. The exercise, which has been at play for nearly a week, has seen UK staff work with their American counterparts to fight off a series of simulated threats from enemy forces, using all the air, surface and sub-surface assets of the entire task group.
"The US Navy, out of huge generosity, has given us the whole of their carrier strike group so that we can practise the command and control of a carrier doing these operations in British waters so that when HMS Queen Elizabeth comes into service later this year we will be well on the way to forming our own carrier strike capability," said Captain Ken Houlberg, Chief of Staff to the Commander of the UK Carrier Strike Group.
The series of war games have seen the Commander of the UK Carrier Strike Group, Commodore Andrew Betton, and his team direct jets, firepower and personnel across the task group for the last ten days to ensure readiness for the UK's own carrier strike capability.
During a pause in the exercise's high tempo activities, there was a chance for HMS Queen Elizabeth to join the carrier strike group for a brief period as she continues her own contractor sea trials ahead of her much-anticipated first entry into her new home port in Portsmouth, expected to be in just under two weeks.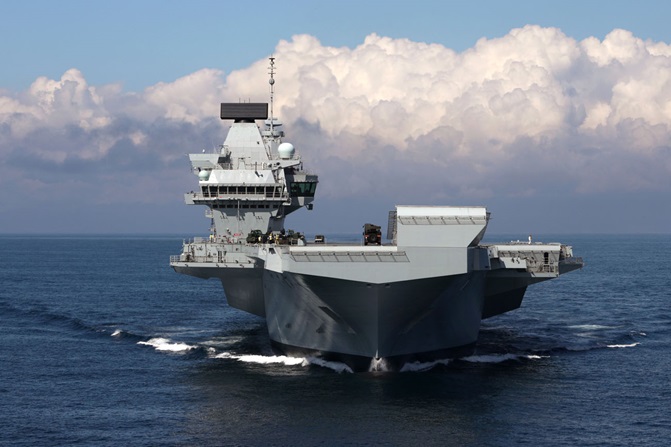 HMS Queen Elizabeth (Royal Navy photo)
As well as the USS George HW Bush, the group includes two Portsmouth-based Type 23 frigates, HMS Westminster and HMS Iron Duke, destroyer USS Donald Cook, missile cruiser USS Philippine Sea and the Norwegian frigate HNoMS Helge Ingstad. Overall, there are 15 ships from across NATO taking part in the exercise, with more than 100 aircraft and nearly 10,000 people.
Defence Secretary Sir Michael Fallon announced on Monday that Queen Elizabeth is set to enter her new home in Portsmouth in around two weeks. Weather conditions mean the exact date of the historic moment is yet to be confirmed.
With only three other countries in the world building aircraft carriers, HMS Queen Elizabeth will give Britain the capability to lead the way in tackling global issues in an increasingly uncertain world, from providing humanitarian relief to high-end war fighting. And with the state-of-the-art F-35B Lightning fighter jets on track to make their first trial flights from the carrier's deck next year, the UK is now building towards delivering carrier strike capability.
This article appears courtesy of Royal Navy News and may be found in its original form here.