Navantia Grows as a Cruise Ship Repair Specialist
Cruise ship overhauls and revitalization are becoming an increasingly large business for the world's shipyards. With the scope of the work growing as the cruise lines move to update older ships and incorporate newer amenities into their existing fleets, the Navantia Shiprepairs facility in Cadiz, Spain has emerged as one of the leaders in this specialized segment.
This spring, Navantia is undertaking a number of significant projects that demonstrate the trends in the cruise industry. In mid-April, TUI Cruises' Mein Schiff 1 began an intensive four-week conversion for TUI's UK-based Marella Cruises, followed in May by Royal Caribbean International's Mariner of the Seas, which is undergoing a $90 million makeover. Typical of the larger, more complex projects that have become prevalent in the cruise ship business, the scope of work ranges from refreshing public spaces, refurbishing cabins, upgrading systems, underwater and propulsion work, and blasting and coating of the hull and superstructures.
The Marella project, which involved around 1,600 people and over 200,000 man hours, illustrates the expertise Navantia has developed over the past decade in managing and executing cruise ship revitalizations. The project involved refreshing 35 public spaces and 962 cabins with carpeting and fabrics, tile work, and the installation of data cabling and 650 Wi-Fi access points around the ship. Technical work included an overhaul of the propulsion system, renewing piping and steel, and maintenance and repairs for everything from the anchor chains to the stabilizers. At the same time, the exterior of the ship was being repainted from the signature dark blue Mein Schiff appearance to Marella's multi-color wave design.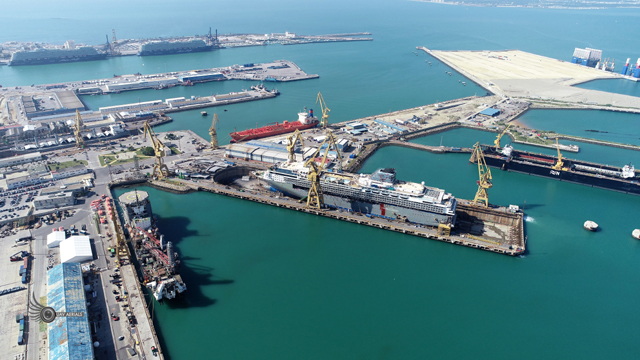 "Ships like hotels need to be refreshed to stay current," says Ramon de Lara, Commercial Manager for Navantia Cadiz. In the past, ship owners mostly commissioned technical work, paint, and repairs with limited refreshes of the hotel areas. The focus was on "traditional shipyard work," de Lara says. "Now those same owners are using the repair periods mandated by Class certificate, as an opportunity to add the latest and most popular amenities to their ships." Further, as ships reposition between markets, sometimes they need to repurpose spaces to meet local preferences. "Americans like sports bars," explains de Lara, "but in other areas of the world ships might need more casino or retail space."
One of the world's oldest continuously operating ship repairers, the Navantia Group can trace its Bay of Cadiz operations (now its San Fernando facility) to 1750 and its Cadiz yard to 1891. Today its network of yards offers a wide range of new construction, repair and conversion capabilities. Yet, despite its limited experience with large cruise projects, in late 2009 Navantia's corporate management made a strategic decision to develop this business line at the Cadiz yard.
"Navantia got into the business at the perfect time as the cruise lines were deploying more ships year-round in Europe," says de Lara. The yard initially pursued "the more traditional cruise ship overhauls." In 2008, for example, Navantia handled the re-branding of Norwegian Cruise Line's Pride of Hawaii into the Norwegian Jade with a brief drydocking and some minor hotel-related modifications. In 2011, they completed their first major revitalization project, for Royal Caribbean's Splendour of the Seas, which included now routine work such as fitting a 300-plus ton ducktail. This project helped to build Navantia's reputation in the business.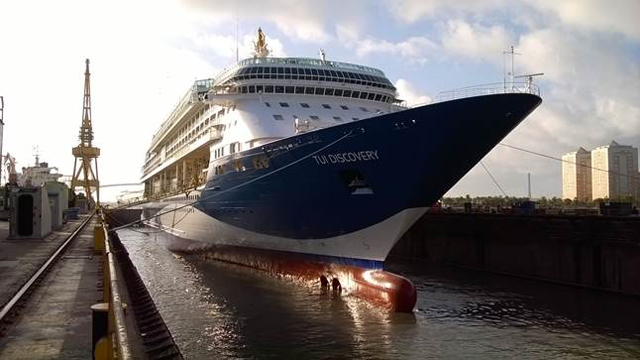 Following a disciplined approach, Navantia has grown the business and developed relationships with the world's leading cruise lines. Royal Caribbean Cruises has entrusted a number of major projects to Navantia such as the 2015 drydocking of then the world's largest cruise ship, the Allure of the Seas. The 18-day effort involved technical maintenance, propulsion work, certificate surveys and extensive hotel modifications.

De Lara explains that planning is critical to the success of the projects, often starting as much as two years in advance. In fact, the shipyard currently has reservations stretching out to 2021 for cruise ship work. A typical revitalization will last two to five weeks encompassing a broad range of projects from ducktails to new cabin blocks, pod propulsion overhauls, scrubber installations, steel and piping renewal, and survey and certificate work. In addition to carrying out the technical elements, Navantia manages the workflow, often including an array of subcontractors, to maximize efficiencies and maintain a safe work environment.
Navantia prides itself on its synergistic approach that includes "finding workable solutions" by partnering with the shipowners. For the new owners of the cruise ship Deutschland, Navantia added 58 French balconies for use during the cruise season and created a unique central locking system on the bridge for the balcony doors during her school ship deployments. At the end of each project, they also undertake a thorough "post-project review looking at efficiencies and lessons learned. The focus is on how to do it better and share additional value," says de Lara.
Using this management discipline, Navantia has been able to strategically leverage their competency in ship repair and location in Cadiz that places them close to major shipping routes to build an impressive reference list. On numerous occasions, the yard has proven its capability to successfully accommodate multiple, simultaneous revitalization projects. Since 2011, they have completed more than 50 cruise ship projects at their facilities that include two graving docks and one floating drydock along with 3,000 meters of dock space and large storage areas to stage materials prior to and during projects.
While maintaining its traditional commercial vessel repair activities, Navantia is continuing to strengthen its cruise industry position and looks to add to its existing infrastructure to improve the logistics and project support aspects of the operations. Having developed the experience in the specialized business of cruise ship revitalizations, Navantia Cadiz has become the world's second busiest shipyard in this sector and the outlook continues to be strong.