Naval Tug Refloats Thorco Lineage but Loses Tow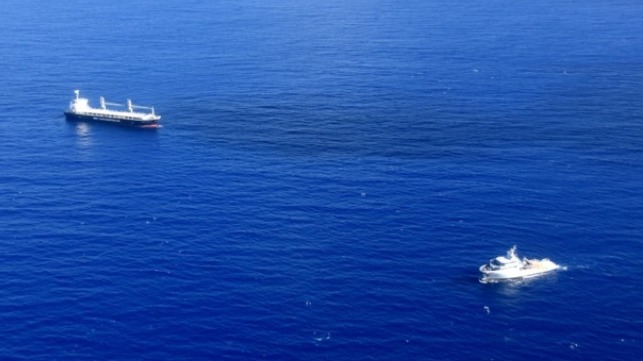 The grounded freighter Thorco Lineage has been successfully refloated after she went hard aground at Raroia, French Polynesia.
The French naval tug Bougainville arrived on scene earlier this week to respond to the grounding. Her crew successfully passed a towline, and after a series of attempts, they managed to pull the freighter off the shoals. However, the Bougainville's towline parted shortly thereafter, and the Lineage went adrift once more. An attempt to reconnect another towline was not successful, and as of Wednesday evening, the Lineage was drifting to the southwest off the coast of Raroia, about 1.5 nm off the shore.
According to the salvage team, drift prediction models show the Lineage's course continuing further offshore to the southwest. For the interim, the vessel is being permitted to drift, with the Bougainville standing by.
The High Commission of French Polynesia reports that the vessel is damaged but intact, "without water leakage or leakage of pollutants." A dive inspection revealed no punctures, and the salvage team leader believes that she may be safely taken in tow.
The commercial tug Aito Nui has been dispatched from Papeete, Tahiti to assist the intervention team. She departed port in the early hours of Wednesday morning for Raroia, making about 10 knots on the 400-nm transit.
During a voyage from Baltimore to Hobart, Australia, the Lineage lost power, and she drifted ashore on Raroia on Saturday. She is carrying about 20,000 tonnes of powdered zinc and 500,000 liters of fuel oil. No pollution has been reported.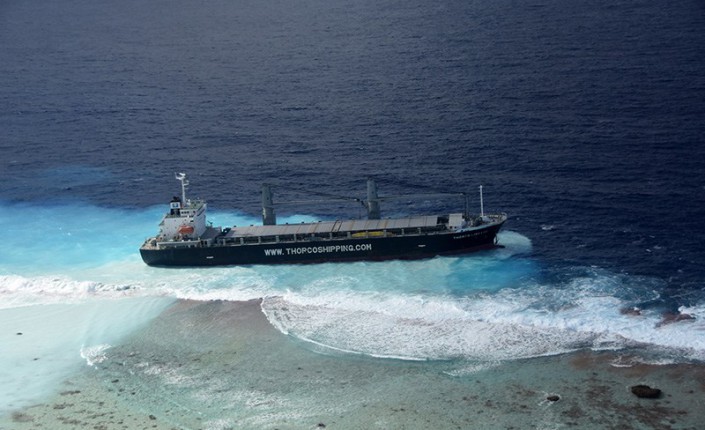 The Thorco Lineage aground on Raroia (Flotille 25F)