MSC Proposes to Buy Half of Hamburg Terminal Operator HHLA in $1.4B Deal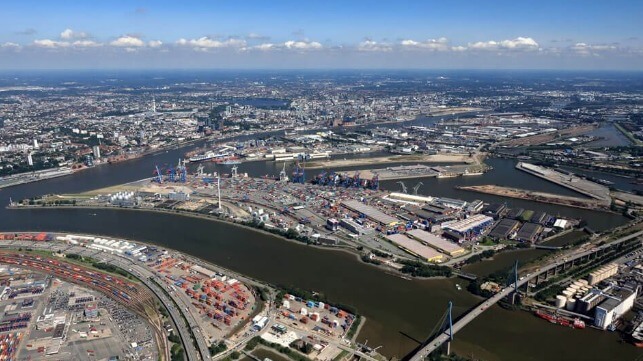 Mediterranean Shipping Company (MSC) is continuing its efforts to build a dominant position as an intermodal provider reporting that it plans to make an offer to acquire half of Hamburg, Germany's terminal operator Hamburger Hafen und Logistik Aktiengesellschaft (HHLA). As part of the planned offer, MSC has entered into a binding Memorandum of Understanding with the City of Hamburg, the controlling shareholder in HHLA, and will form a strategic partnership for the operation of the terminal company.
Announcing the deal, MSC said it would establish a strong and well-funded basis for the further development of HHLA and the entire Port of Hamburg. The shipping industry's largest carrier said it would make Hamburg a central hub for its global network while committing to a strong increase in container volumes. They are offering to increase container volume at Hamburg starting in 2025 and starting in 2031 onwards are committing to 1 million TEU annually.
MSC is sweetening the package by also committing to move its German headquarters, which employs approximately 500 people, to Hamburg with several hundred employees. Further, they said with the city and management of HHLA, they will develop a long-term investment plan for the company.
Hamburg, like other major European ports, has been feeling the pressure of declining volumes linked to the economy as well as the war in Ukraine. Analysts point out that Hamburg however has lost market share to Rotterdam and Antwerp with container volumes in the German port largely flat in recent years. HHLA, last year, completed a contentious deal to sell a portion of one of its Hamburg terminals to China's COSCO in an effort to build volume and expand trade links with China. That deal faced strong political opposition due to the feared involvement of the Chinese government in COSCO.
The terms of the proposed deal call for MSC to make a stock exchange offer to buy all the outstanding A shares of HHLA at €16.75 per share, a 57 percent premium to the 30-day average trading price. Reuters puts the value of the offer at $1.4 billion and a total enterprise value for HHLA at nearly $2.8 billion. MSC would own 49 percent of the company with the City of Hamburg retaining 51 percent ownership. The city owns 69 percent of the A shares plus a non-trading class of stock.
The market responded by driving the price of HHLA's shares up nearly 50 percent, to a 19-month high of €17.20. Reuters reported that logistics company Kuehne Holding controlled by German billionaire Klaus-Michael Kuehne was considering a counteroffer either from his company or in partnership with Hapag-Lloyd, in which he is a large investor with a 30 percent stake. It could set off a battle of the billionaires against Gianluigi Aponte, founder of MSC and patriarch of the family which now lives in Switzerland.
MSC highlights that the proposed deal is in keeping with its expansion strategy, which includes the growth of its terminal operations. Its Terminal Investments Limited (TIL) operates 70 terminals around the world. HHLA in addition to its operations in Hamburg has terminals in Odesa, Ukraine, Tallinn, Estonia, and Trieste, Italy. MSC also acquired Africa Global Logistics from Bolloré at the end of 2022.
They highlighted the combination with HHLA would also provide excellent inland connections with the company's intermodal hubs in Central and Eastern Europe, and railway company METRANS. MSC has been expanding its rail investments and air cargo operations after acquiring AlisCargo Airlines.
The carrier also highlighted its ongoing fleet modernization program. Currently, with a fleet of 760 vessels, MSC said over the next three years it expects to take delivery of more than 90 newbuilds.
HHLA responded to the news of the agreement and pending offer saying that its Supervisory and Executive boards would review and evaluate the offer. MSC anticipates submitting a formal offer for approval by regulators (Bundesanstalt für Finanzdienstleistungsaufsicht) within four weeks. They expect to start the offer after gaining regulatory approval in the second half of October. The acquisition and strategic partnership with the city will also require approval by Hamburg's parliament.