Mitsubishi and NYK Receive Approval for Ammonia/LCO2 Carrier Design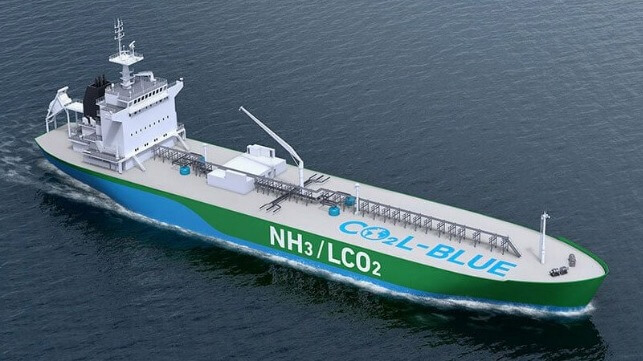 Mitsubishi Shipbuilding Co. is looking to develop a leadership position in the emerging markets to transport new products including ammonia as well as captured and liquified CO2. The efforts are part of its parent company, MHI Group's efforts to create the energy transition business and strengthen its position in the emerging market.
Using Mitsubishi Shipbuilding's advanced gas handling technologies along with NYK Line's experience in ship operations they report that have completed initial designs for a new vessel that would be capable of transporting both ammonia and liquified CO2. Japanese classification society, ClassNK reports it carried out the design review of the ammonia and LCO2 carrier. Confirming it complies with the prescribed requirements for steel ship construction, ClassNK issued an Approval in Principle (AiP) for the design.
Several projects are all working on designs for commercial LCO2 carriers. Earlier this week, for example, Mitsui O.S.K. Lines (MOL) reported that working with Petronas and Chinese design firm SDARI, they have completed the concept for an LCO2 transport system. They presented designs for both a large and small LCO2 carrier that would work in conjunction with an FSO unit for the transport and storage of CO2 under the seabed.
Mitsubishi Shipbuilding in its approach looks to increase commercial opportunities. Using its experience in gas transport, its design combines the transport of the two emerging areas of ammonia and CO2 to create a safe and economical carrier. They highlight that the vessel could transport ammonia to thermal power plants on the outbound route and then carry CO2 emitted from the thermal power plants to storage sites on the return trip.
The design project is part of the MHI Group's larger efforts at developing a value chain that spans land and sea and contributes to decarbonization. In addition to the vessel design project with NYK, Mitsubishi is pursuing similar concepts with Mitsui O.S.K. Lines. With other partners, including TotalEnergies and Nihon Shipyard, Mitsubishi Shipbuilding is developing designs for large, commercial-scale LCO2 carriers. They have projected that the first commercial ships might enter the market by 2027.
Mitsubishi Shipbuilding in March launched the first dedicated CO2 carrier designed to be a demonstration ship for the emerging CO2 capture and storage initiatives. This ship, which is being built as part of a demonstration project sponsored by the Japanese government, will have a cargo tank capacity of 1,450 cubic meters. It is due for delivery by the end of this year and will begin trials and demonstration voyages.