MOL and Petronas Reveal Plans for LCO2 Carriers and FSO for CO2 Stoage
Design approval has been granted for a new system designed for the transportation and storage of captured CO2. Developed by Japan's Mitsui O.S.K. Lines and Malaysian state oil company Petroliam Nasional Berhad (Petronas), working in collaboration with the Shanghai Merchant Ship Design & Research Institute (SDARI), they believe it represents a key step in the processes for capture, transport, and storage of CO2.
MOL and Petronas have been jointly studying the means of optimizing ocean transport for liquified CO2 (LCO2) within the Asia Pacific and Oceania region which they believe could also serve as a model for other regions. Working with SDARI, they developed a system that consists of both an LCO2 carrier and a floating storage FSO. The carrier would transfer the LCO2 to the FSO that can receive, store, and offload cargo, outfitted with an injection system to transfer the CO2 below the seabed.
"An FSO is a floating facility and LCO2 FSOs are considered one of the most effective scenarios in the carbon capture, utilization, and storage (CCUS) market," the companies reported. "Development on a large scale is an essential step for the CCUS value chain within the Asia Pacific and Oceania region."
The companies announced the completion of a concept study that was launched in February 2022. At the beginning of this week, on June 26, both DNV and ABS awarded Approval in Principle for portions of the system's design.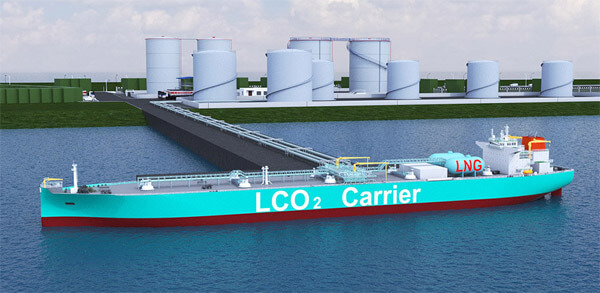 System proposes both large and small carriers to move LCO2 from capture onshore to the storage sites (MOL)
They presented three designs for the transport of LCO2. One is for a smaller, 14,000 cbm LCO2 carrier developed for short-haul transportation. It received the AiP from DNV along with designs for a large, 87,000 cbm LCO2 carrier for long-haul transport. ABS issued the AiP for another large, 87,000 cbm LCO2 carrier employing a Dynamic Positioning System for long-haul transport and offshore unloading of the LCO2.
The transport carriers would be supported by a 96,000 cbm LCO2 FSO. It would be for the intermediate storage and offloading at the offshore site. ABS issued the AiP for this concept design.
Through the newly acquired AiP, they look to further accelerate the designs for the CO2 transport business. MOL reports it will further collaborate with PETRONAS through the newly acquired AiPs and will continue its efforts to develop various technologies including LCO2 carriers and FSOs. The group looks to build a diverse CCUS value chain.
MOL has been working to create a leadership position in the sector anticipating growing demand in the coming years as efforts expand to capture CO2 for industrial operations. In March 2021, MOL invested in Norway-based Larvik Shipping, a ship management company for liquefied CO2 carriers. They highlighted that Larvik Shipping has managed industrial liquefied CO2 tankers serving Europe for over 30 years. MOL looks to build on Larvik's track record in safe transport of liquefied CO2 and extensive cargo-handling know-how along with the Japanese company's experience with large gas carriers.
Several undersea storage projects are under development with Denmark having recently started the first transportation offshore and test injections. Countries have begun the licensing process for potential offshore storage sites using a similar process to the historic offshore gas leasing and more recent wind farm auctions.