Meyer Werft Turned into Concert Stadium for AIDAnova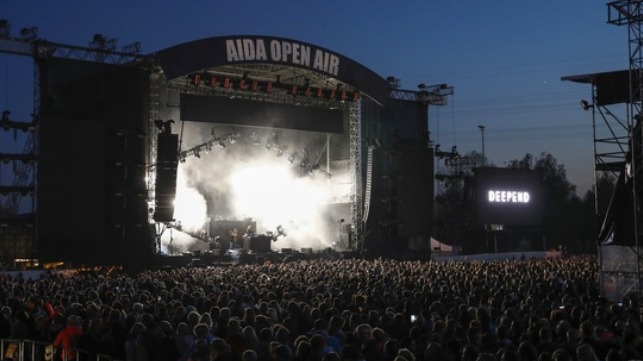 AIDA Cruises has named its latest ship AIDAnova on Friday evening. The ceremony took place at a sold-out AIDA Open Air event at the Meyer Werft shipyard in Papenburg, attended by 25,000 spectators. The evening featured fireworks, a laser and pyrotechnics show and star DJ / producer David Guetta.
The ship was lit up by 20 multicolored laser projectors, over 300 strobes and more than 100 floodlights and spotlights. Acrobats ascended on luminous flyboards to a height of 20 meters as part of a stunt show.
Another novelty at the naming ceremony: For the first time it was not just one godmother who named the ship but rather an entire family: Sonja (31), Asad (33) Mirza, and their children Sophia (2) and Adrian (3) from Hanau.
The 5,200-passenger cruise ship will have over 2,600 passenger cabins, with a gross tonnage of over 180,000, a length of 337 meters (1,105 feet) and a width of 42 meters (138 feet).
At the end of September AIDAnova will sail to Eemshaven in the Netherlands for final fit-out and sea trials. AIDA will take over the new ship from the Meyer Werft shipyard on November 15, 2018, in Bremerhaven. During her premiere season, from mid-December 2018 AIDAnova will be sailing the island world of the Canaries and Madeira on seven-day cruises.
AIDAnova is the world's first cruise ship that can be powered by LNG both at sea and in port. Two further AIDA ships of this new generation will be built by 2023 – also at the Meyer Werft shipyard in Papenburg.
Carnival Corporation has contracted with Meyer Werft for seven LNG ships, including two each for AIDA and Costa, as well as two for Carnival Cruise Line and one for P&O Cruises. "Other firms that are adopting LNG-power include Royal Caribbean International, which has ordered two ships from Meyer, and Disney Cruise Line, which will use LNG-power for its three cruise ships also on order at Meyer," says cruise industry analyst, Allan E Jordan. In addition, MSC Cruises plans to build four 200,000 gross ton LNG-powered cruise ships at STX France.
Carnival and AIDA have already been gaining experience using LNG in the dual-fuel engines on AIDA's new cruise ship the AIDAprima to generate power while in port at Hamburg, Southampton, Le Havre and Zeebrügge.
AIDA Cruises' fleet currently comprised of 12 cruise ships.