Mexican Government Seizes U.S.-Owned Marine Terminal Near Cancun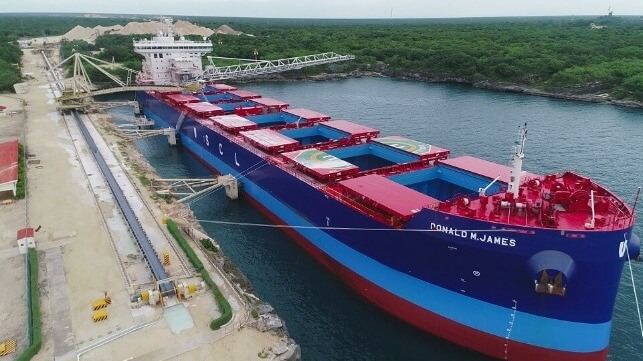 An American construction materials company says that the Mexican military has seized a privately-owned rock quarry and port facility near Playa del Carmen, on the Yucatan Peninsula.
Alabama-based Vulcan Materials Company has run a limestone quarry in the Mexican state of Quintana Roo for more than 30 years, supplying crushed rock for cement manufacturing on the U.S. Gulf Coast. The port is operated by Sac-Tun, a local subsidiary of Vulcan.
Mexican President Andres Manuel Lopez Obrador has tussled with the operator for more than a year, calling on Vulcan to convert the limestone quarry into a tourist park and claiming that the operation has caused environmental damage. He is also believed to have an interest in Vulcan's marine terminal for the quarry, which is the only dock in the region capable of handling rock shipments for construction of the gigantic Maya Train rail line project - a controversial piece of Obrador's development program. Obrador has been pushing to accelerate the line's construction, and the train relies on imported rock.
Obrador's administration ordered Vulcan to shut down its underwater quarrying operations at the site in May 2022, citing environmental concerns - an order which Vulcan believes to be illegal under Mexican law. The government then suspended Vulcan's customs permit for exports, which had just been renewed two months earlier. These two "arbitrary and illegal" interventions forced the facility to shut down.
Vulcan had an agreement with Mexican cement maker Cemex to allow it to use the quarry's marine loading terminal, but that contract ended on December 31, and Vulcan asked Cemex to renegotiate. In ongoing litigation, Vulcan obtained a court injunction prohibiting Cemex or the Mexican government from taking over the facility; however, according to Vulcan, Cemex representatives returned with the Mexican armed forces and seized the property on March 14. Gate camera footage appeared to capture clear video imagery of government troops accompanying workers in Cemex-branded company pickup trucks as they entered the complex.
???? WATCH: The Mexican military seized a U.S. company's (Vulcan Materials) marine terminal in Mexico. This is insane, @SecBlinken @JakeSullivan46

More from Bloomberg —> "Vulcan Facility Seizure Adds to Tension Between US and Mexico" https://t.co/el9GMN1Nv8 pic.twitter.com/gvj40ziefz

— Cliff Sims (@Cliff_Sims) March 19, 2023
"Vulcan owns the four parcels of property that make up its Mexico operation, including the port facilities. Likewise, Vulcan lawfully holds the port concession. Use of Vulcan's private property by third parties, such as Cemex, requires Vulcan's authorization," the firm said in a statement.
Vulcan, the largest construction aggregates company in the United States and one of the largest employers in Alabama, has enlisted the support of its home state's congressional delegation to press its case.
"It's been over a week, and Mexican governmental forces continue to militarily occupy an Alabama company's private property - despite a Mexican federal court ordering all government forces to vacate the premises. This is unacceptable, and [President Joe Biden] should say so," said Sen. Katy Britt (R-AL) in a statement.
The incident has drawn the attention of the White House, and the State Department warned in a brief statement Tuesday that the apparent expropriation of the site could harm relations.
"We speak regularly with Mexican officials about our expectation that U.S. companies be treated fairly and in accordance with all trade obligations. We also note that failure to do so has the potential to impact our ability to achieve our shared vision for improving livelihoods in one of Mexico's most economically disadvantaged regions and Mexico's ability to attract future investments," the department cautioned.