Merchant Ship Rescues Family of Three Off Haiti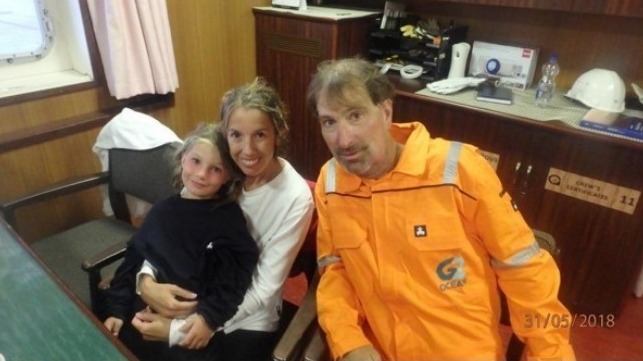 On Saturday, the crew of the cargo ship Jacamar Arrow rescued a family of three from the upturned hull of a sailing yacht in waters north of Haiti.
The survivors included Florida residents Steve Kopesky, 51; Jessica Kopesky; 41, and their daughter, whose name was not released. They were under way from the Turks and Caicos islands to the Dominican Republic aboard their yacht, the Lost Marbles, when it began taking on water and capsized about 22 nm off Montecristi in the Dominican Republic.
The family transmitted a Channel 16 VHF distress call, which was received by the bridge team aboard the geared bulker Jacamar Arrow. The Arrow got under way for the scene of the casualty and arrived six hours later. Her crew brought the survivors aboard and found them to be in good health.
The crew of the U.S. Coast Guard cutter Heriberto Hernandez later made arrangements to meet the Arrow and bring the survivors on board. The Hernandez brought them to shore at San Juan, Puerto Rico, where they disembarked and received assistance from local officials.
"The Department of Family has offered their assistance and have social workers ready to support their needs. Thank God there were no misfortunes and we trust this family will recover from this unfortunate experience and return home to their loved ones as soon as possible," said Hon. Luis Gerardo Rivera Marín, Secretary of the Department of State of Puerto Rico.
Lt. Thomas Carman, U.S. Coast Guard Sector San Juan command duty officer, commended the Kopesky family and the crew of the Arrow for their preparedness. "In this case, the wearing of lifejackets and the use and monitoring of a VHF marine radio saved lives," he said. "The Coast Guard applauds the rescue and actions performed by the crew of the Jacamar Arrow and commends the survivors on their use of lifesaving equipment."