Manager of China's Biggest Shipbuilder is Under Investigation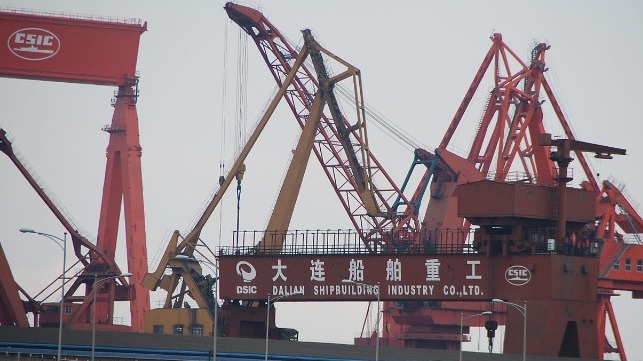 Sun Bo, the general manager of China Shipbuilding Industry Corporation, is under investigation by the Communist Party of China's Central Commission for Discipline Inspection (CCDI). CCDI is the party's highest internal control office, and it serves as China's top anti-corruption agency.
In a statement released Saturday via state media, the CCDI said that Sun is under investigation for "suspected serious violation of Party disciplinary rules and law." The allegation is a phrase that CCDI typically uses to refer to cases involving corruption.

Sun, a graduate of Dalian University of Technology, rose through the ranks at CSIC subsidiary Dalian Shipbuilding Industry Co. before becoming the conglomerate's assistant general manager. He assumed the post of general manager in 2015.
Sun is not the first CSIC official to come under scrutiny in recent years. Liu Changhong, CSIC's head of discipline, was charged with corruption in 2017, and CCDI alleged that he used his "authority at CSIC to reap personal gains and accepted bribes." At the time, CCDI officials warned that its concerns extended beyond Changhong's case. "Some leaders [at CSIC] were found to have a weak sense of discipline, and some have abused their authority for personal gains," the agency said in a statement last year.
CSIC, the world's largest shipbuilder, is one of two giant Chinese state-owned shipbuilding conglomerates. CSIC's yards are the core of China's naval shipbuilding capabilities, and they construct many of the PLA Navy's largest and most capable ships. Among other prominent vessels, CSIC has built China's first domestically-built aircraft carrier, the newly-delivered Type 001A, and in future years it will likely be the builder of China's first nuclear-powered aircraft carrier.
Under Sun's leadership, CSIC has undergone significant restructuring as it adjusts to a period of contraction in the commercial shipbuilding market. Rumors of a re-merger with state-owned competitor China State Shipbuilding Corporation (CSSC) have swirled for at least a year, but both yards deny knowledge of any plans for a join-up. The two businesses were created through the division of CSSC's holdings in 1999.