Live Export: What the Observers Saw On Board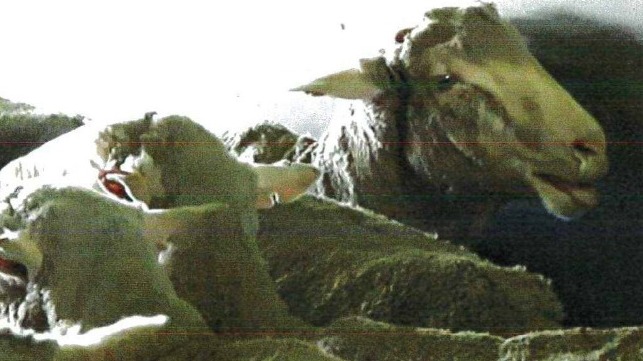 The exporter had left some beer, so on the first two nights of the voyage, the government-appointed observer had a beer and a chat with the crewmembers of the livestock carrier he would sail on for next few weeks.
Two of the conversations were noteworthy enough to be included in the observer's final, official voyage report to the Australian Department of Agriculture. However, the details of those conversations were redacted before the report was handed over to the RSPCA in January as part of a Freedom of Information request.
The conversations are just one case, across multiple reports from different observers on different ships sailing from Australia to the Middle East, where sections were redacted. None of the video taken by the observers has been made public, and few of the photographs.
Imagery has been important to Australia's debate on the future of the live export industry, and one government-appointed observer noted: "Given the mindset, I could make even the best of journeys look bad with selective imagery." This is a criticism that has been leveled at those opposed to the live export industry as a defense against whistleblower footage such as that taken on a 2017 Awassi Express voyage when thousands of sheep died of heat stress.
Unlike the Awassi Express high-mortality voyage, the observers, employed to gather information after public outcry at the whistleblower footage, found themselves on particularly low mortality voyages. A government mandate meant that sheep were loaded at lower densities than they had been on the Awassi Express, and for several of the observed voyages, the sheep had been delayed in feedlots where they had extra time to acclimatize to the food they would receive on board. One observer notes that extra care was taken to ensure lame or sick animals were not loaded - all animals were viewed rather than just a sample, and a further approximately one percent were rejected as a result.
"The component of 'skinnys' that normally make up a portion of most sheep consignments and have a higher than normal mortality rate were not included."
The observers didn't note any non-compliances with government-approved export plans that they considered to be significant, and the redacted reports indicate that when issues affecting animal welfare did arise, they were dealt with swiftly.
The observers were consistent in their praise for the crew and the animal welfare standards attained on the voyages. Even during the month of Ramadan, notes one observer, when crewmembers were fasting during the day, all levels of care were maintained.
On one ship, a wellness pen was set up on each deck for "shy" feeders, cattle at risk of not getting enough food. On another, a lamb was born, and the crew cared for it and secured a home for both lamb and mother in Turkey. A special nursery pen was available on yet another vessel that had six ewes give birth during the voyage.
To tackle heat stress, some vessels sailed a zigzag pattern to increase airflow across open decks. Extra fans were installed on the closed decks of another vessel to boost ventilation, and on entering the Persian Gulf, another vessel's crew took particular notice of the weather report and avoided areas of high humidity. The diet of the livestock was also varied to reduce digestive heat load when heat stress was a risk. Several observers noted that the sheep fared well and showed limited signs of heat stress. Where possible, the sheep arranged themselves around air vents when warmer conditions were experienced.
However, the reports contain records relating to over 1,500 livestock deaths, and a number of animal welfare issues were encountered on board:
Multiple reports documented symptoms of heat stress among the livestock over many days of the voyage. Some deaths were also attributed to heat stress, others to disease, infections, feeding issues and injuries - either sustained on board or as a result of shearing prior to loading.
One observer noted that crew members appeared inexperienced in livestock handling. "On several occasions I observed attempts to move baulking sheep by physically handling them by the forelimbs." The apparent inexperience in droving sheep was also seen at offload time when crew members and shore personnel were unable to maintain the flow of moving sheep.
One observer noted sheep with shearing cuts on the limbs were most severely affected by secondary infection, and some subsequently died or were euthanized. This observer also witnessed an outbreak of pinkeye which resulted in around 20 percent of sheep infected in some pens. "At offload, I observed five or six sheep that were effectively blind and had to be kept within a group of moving sheep to prevent them colliding with fixed objects."
Some observers noted occasions where water troughs were empty or where dusty or moldy food was found in troughs. One observer noted that, despite prolonged observation, it was not possible to validate that all sheep were getting their turn at the feed trough. Another noted a lack of fodder available once unloading had commenced and crew were busy with other tasks.
Some noted flooding from rain or from ballast tanks in some pens, and some noted that dead animals were not always removed from pens in a timely manner. On one vessel, the cattle were not washed down for eight days, as the relative distribution of livestock and fodder meant the vessel's trim could not be safely adjusted to allow the washwater to flow off the decks.
As well as animal welfare issues, the reports brought to light issues that could affect the information used to assess the need to take remedial action such as zigzagging and information used to assess investigations into high-mortality voyages such as the Awassi Express one, with potentially poor quality information being recorded about stocking density and temperatures on board.
On one vessel, the observer noted that the load plan had limited relevance as a representation of stocking density because of the redistribution of livestock undertaken, partly to proactively manage shy feeders. Additionally: "The pipe rail fencing where no troughs were attached was observed to be essentially porous to adventurous lambs and smaller sheep with significant numbers wandering in the laneways and seen to jump through fences when driven at offloading. Gates between adjacent pens in each column were often left open to allow sheep of the same class to further distribute within the available space."
Several observers noted that livestock were redistributed to different pens during the early part of the voyage to ensure relative homogeneity in the size of animals in a pen. On one ship, initial stocking densities were calculated for cattle rather than sheep which necessitated subsequent livestock moves. There were also some issues with the watering system on this vessel, as the crew had to adjust troughs from cattle height to sheep height. "There was always maintenance that was required for leaks and hoses disconnecting from some of the troughs," reports the observer.
All vessels had received approval to load livestock and depart Australia from the Australian Maritime Safety Authority (AMSA). However, one vessel had a pen approved to hold livestock by AMSA that, in practice, needed the crew to erect an extra gate to stop livestock falling down grates. In the pens that are to have a different floor area depending on whether sheep or cattle are held, AMSA requires that a gate be put up. However, the observer noted that as soon as the vessel sailed, these gates were removed to give the livestock more space and because some animals tend to jump through and get caught in the empty space.
The temperatures recorded around the ships were of variable quality on some voyages, creating another source of potentially misleading data recorded about voyages. One observer noted that temperatures were taken twice a day, not at the hottest part of the day. Another noted they were taken four times a day, again not at the hottest part of the day. On another vessel, they were taken once a day. Several observers noted faulty equipment, difficulty in taking readings and crew missing taking all measurements.
The RSPCA says it took nearly six months of fighting to obtain the observer reports which it says make it clear that, despite the redactions and the industry knowing it was being observed, the conditions on board the Awassi Express in 2017 weren't the exception but the norm.