LISW Charms Shipping With Constellation of Events
London International Shipping Week (LISW) has been a mainstay of the maritime industry conference circuit for years, and the 2023 edition was a smashing success. 30,000 maritime professionals from 70 different nations descended on London to network, learn and share new ideas - and to hear from prominent guest speakers from inside and outside the industry.
Attendees had no less than 350 different events to choose from over the course of the week, including high-profile happenings at No. 10 Downing Street, the UK Parliament and the London Stock Exchange. As is fitting for a maritime gathering, organizers lined up events aboard more than half a dozen vessels, including HMS Belfast, HMS Iron Duke, and the new electric workboat Pioneer of Belfast.
Among the biggest highlights of the show were mini-conferences organized by prominent maritime companies, often featuring keynote speakers from outside the industry. At its London headquarters, satcom firm Inmarsat held an event headlined by Helen Sharman CMG OBE, the UK's first astronaut and the President of the Institute of Science and Technology. The keynote was delivered by Inmarsat President Ben Palmer, who reminded the audience of the "oxygen-sustaining opportunities for shipping" that satellite connectivity can deliver. Connectivity is a key enabler for sophisticated vessel routing services, remote monitoring, and real-time emissions verification, all of which are essential to shipping's green transition.
"Connectivity . . . supports the data-based decision-making that delivers measurable vessel efficiency gains and the transparency now demanded of shipping to drive real change on decarbonization," said Palmer.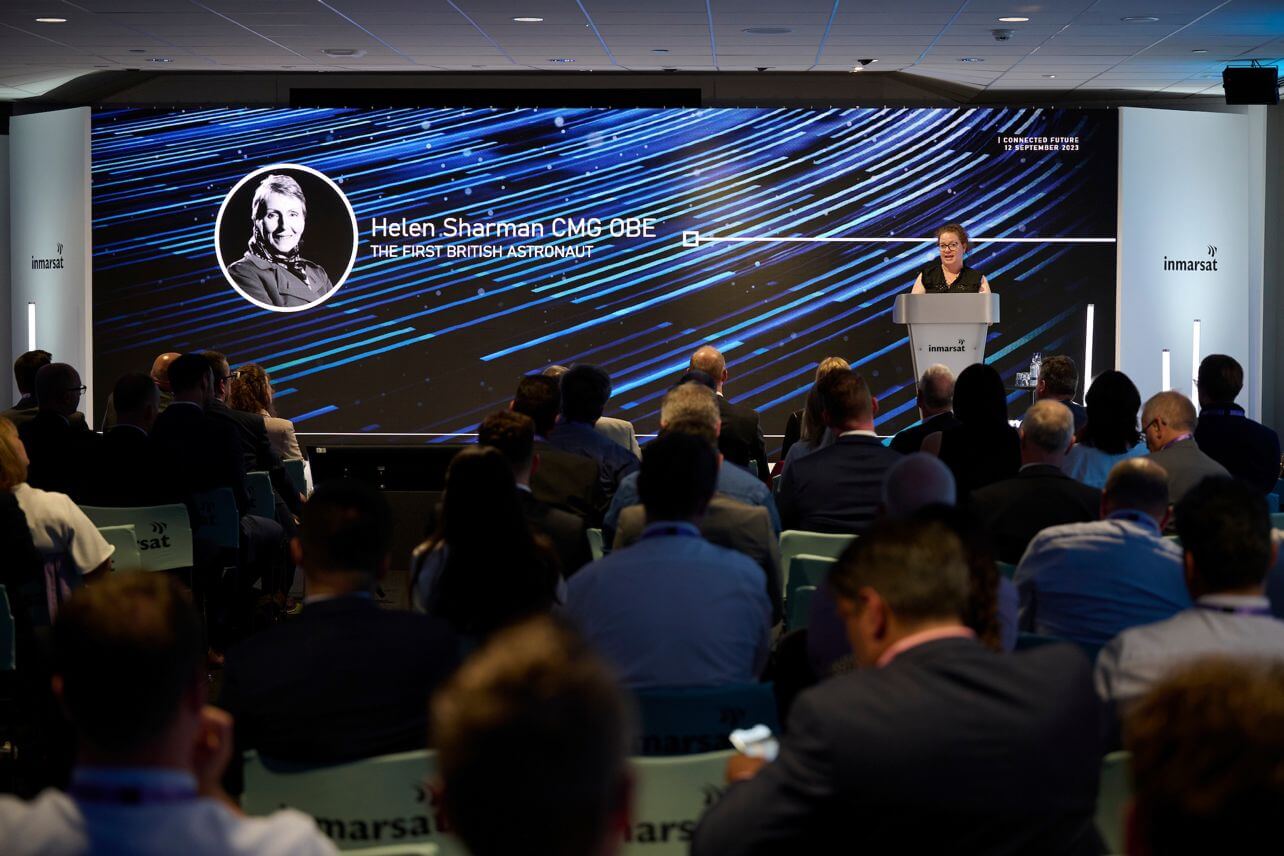 Courtesy Inmarsat
ShipMoney held a seminar of its own on the best ways to use analytics for business decision-making, headlined by a data scientist who specialized in boosting the performance of Formula 1 racing teams. Neil Martin, the former head of strategy at Red Bull, McLaren Group and Ferrari, joined the ShipMoney team to talk about the power of embracing uncertainty, using data to deliver new insights, and - to be sure - the high-octane world of motorsports.
Wake Media held an event for maritime marketing professionals that centered on the topic on everyone's minds: the rise of generative AI, and how it can be put to practical use. The keynote speaker was recognized AI expert Danilo McGarry, who joined to discuss the future of AI and digital tech in marketing communications. Co-presenter Richard Norton (Norts), an AI practitioner, copywriter and content creator, approached the event with a "pirate thinking" angle and won the audience's enthusiastic attention.
AI specialist Richard Norton (Norts) presents to a packed crowd at the Marketing in Maritime forum at LISW (Wake Media)
It was also a busy week for the announcement of new ventures. For Stream Marine Group, LISW provided the perfect setting to launch a new service - Stream Marine Technical, a division focused on alternative-fuel training and consulting. "London International Shipping Week 2023 (LISW23) is one of the world's biggest fact-finding weeks as we begin the countdown to transitioning to decarbonisation," Stream Marine Group CEO Martin White told an assembled group of more than 100 guests on London's Tower Bridge.
Maritime satcom giant KVH took the opportunity to host a panel on the value of connectivity at sea, including a segment with seafarers' welfare organization ISWAN on crew connectivity. Access to onboard broadband has increased in recent years, improving mariners' ability to connect with family or to reach out to a counselor - even when they can't get off the ship. "Seafaring is a tough job, and if we want people to do it, we've got to make that as manageable as possible for them. Good food, good pay, rest, the opportunity to be able to connect with loved ones, surely that's an absolute minimum. The fact is that people these days live their whole lives online," said ISWAN CEO Simon Grainge at the panel.
The LISW conference peaked on Thursday with a black-tie gala dinner for 1,500 guests at Evolution London in Battersea Park, with proceeds to benefit four maritime charities. Thanks to a sponsorship provided by ShipMoney, Uber Boats were chartered to bring the attendees to and from the nearest pier.
The gathering may be over for now, but it will all start up again next time in 2025.