Lightering Underway After Mississippi Barge Allision
Response crews are conducting lightering operations on the MM-46 barge after it allided with the Natchez-Vidalia U.S. 84 Bridge, on the Mississippi River, near Natchez, on Thursday.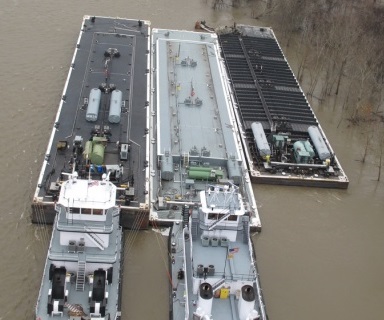 The towing vessel Amy Francis was transporting six barges, four reportedly loaded with slurry oil and two reported to be empty, when the allusion occurred. The allision caused damage to at least one barge containing slurry oil and discharged an unknown amount into the Mississippi River.
The U.S. Coast Guard, Mississippi Department of Environmental Quality, Louisiana Department of Environmental Quality and Magnolia Marine established a unified command in response to the allision.
Response crews began lightering operations at 8:35 a.m., Saturday, to remove the remaining clarified oil mixture from barge MM-46 to two Magnolia Marine barges on scene. Crews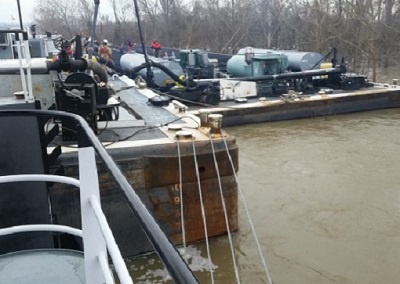 estimate that approximately 76,000 gallons of clarified oil mixture is still unaccounted for, but they continue to take soundings of the damaged barge tank to determine the amount spilled.
Captain Timothy Wendt, commander, Coast Guard Sector Lower Mississippi and Captain of the Port, re-opened the river near the Natchez-Vidalia Bridge to northbound vessels, while all southbound vessels are still restricted from transiting the river.