It's Time to Nominate Those who Save Lives at Sea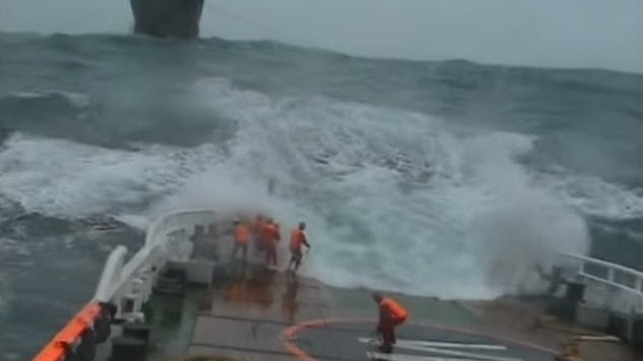 The International Maritime Rescue Federation (IMRF) is calling for nominations and entries from around the world for its annual IMRF Awards.
Last year, nominations put forward search and rescue (SAR) professionals, lifeguards, and ships' crew all of whom had at some point gone far beyond the call of duty as they made every effort to save the lives of refugees, people involved in accidents, cruise passengers on a burning ship or fellow crew members who'd fallen overboard.
Theresa Crossley, CEO IMRF says: "The nominations come from all around the world, putting forward SAR professionals, lifeguards, ships' crew and equipment manufacturers who have made an outstanding contribution to maritime SAR over the last 12 months. The 2018 IMRF Awards, give some of these many unsung heroes just some of the recognition they deserve."
The IMRF Awards, created three years ago, also showcase new search and rescue technologies and techniques that could help improve search and rescue operations and save more lives.
Entries are invited for the four IMRF Awards 2018 categories:
• The IMRF Award for Outstanding Individual Contribution to a Maritime SAR Operation
• The IMRF Award for Outstanding Team Contribution to a Maritime SAR Operation
• Innovation and Technology in Maritime Search and Rescue (to recognize technological innovations that improve maritime SAR locally and globally for the rescuer and/or for those being rescued)
• The IMRF Vladimir Maksimov Award for Lifetime Achievement in the Maritime SAR Sector.
This year's awards ceremony and dinner will be hosted by the Norwegian Society for Sea Rescue (RS) at their new high-tech training centre, RS Noatun near Horten in Norway, following the IMRF's annual European Regional Meeting. There will also be an IMRF Local Hero Award 2018, which will be presented to an exceptional local SAR individual nominated by RS.
The IMRF Awards 2018 recognize actions that took place, or were completed, in the period from July 1, 2017 to June 30, 2018. Nominations can be made online at: http://www.imrfawards.org/nomination-form-imrf-awards or by email to: imrfawards@imrf.org.uk or by phone, by calling: 0044 (0)1569 767405 for an application form.
The closing date for nominations is Tuesday July 31, 2018.
The lead sponsor for the IMRF Awards 2018 is Orolia Maritime, which is also sponsoring the Team Award for the third year in succession. Inmarsat is sponsoring the Lifetime Achievement Award. The Individual Award is sponsored by CM Hammar. The Innovation & Technology Award is sponsored by Pole Star. The Awards Dinner is being sponsored by Swede Ship Marine. The Local Hero Award is sponsored by the Norwegian Seafarers Union and the Norwegian Union of Marine Engineers.