Iranian Drone Harasses U.S. Navy Fighter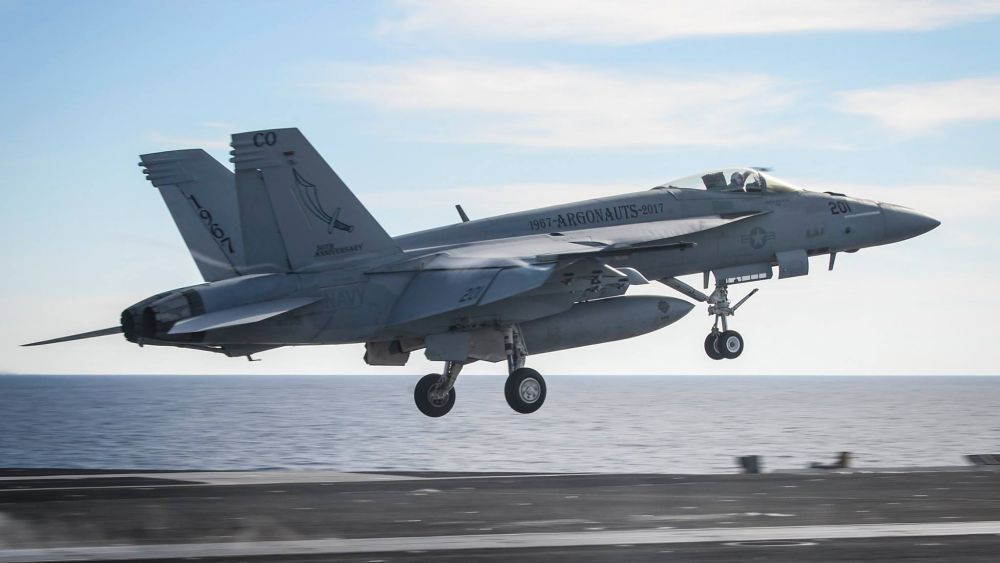 On Tuesday, U.S. Naval Forces Central Command confirmed that an Iranian drone aircraft harassed an F/A-18E Super Hornet fighter as it was in a holding pattern for a landing on USS Nimitz. At about 1300 hours, the drone approached the Hornet at close range, and the fighter's pilot maneuvered to avoid a collision.
NAVCENT described the drone's movements as "unsafe and unprofessional," "not in keeping with international maritime customs and laws" and "dangerous." The close approach occurred in international airspace.
"Despite repeated radio calls to stay clear of active fixed-wing flight operations in vicinity of USS Nimitz, the QOM-1 executed unsafe and unprofessional altitude changes in the close vicinity of an F/A-18E in a holding pattern preparing to land on the aircraft carrier," NAVCENT said in a statement. "The F/A-18E maneuvered to avoid collision with the QOM-1 resulting in a lateral separation of approximately 200 feet and a vertical separation of approximately 100 feet."
NAVCENT noted that this is the 13th such interaction between U.S. and Iranian maritime forces so far this year. Among other previous instances, the destroyer USS Mahan fired warning shots at Iranian Revolutionary Guard Corps (IRGC) boats in January, and the U.S. Cyclone-class patrol vessel USS Thunderbolt fired warning shots at IRGC boats in July. The Navy says that IRGC forces have regularly harassed U.S. naval vessels and auxiliaries in the Persian Gulf, including an incident in June in which an Iranian boat shined a laser at a Navy helicopter.
"QOM-1" does not appear to be among the previously published names for Iranian aerial drones, like the Shahed 129 or the Ababil 3. A Navy source told the Washington Post on Wednesday that the name corresponds to the Sadegh-1, a propeller-driven surveillance UAV retrofitted to carry man-portable surface-to-air missile launchers (MANPADs). The drone in Tuesday's encounter was not armed.
Iranian officials unveil the Sadegh-1, September 2014 (Video in Persian)
U.S. forces and Iranian drones have interacted before: an American F-15E Strike Eagle destroyed an armed Shahed 129 over Syria in June after it approached U.S. counter-ISIS coalition forces with "hostile intent."