Iran to Complete Five LNG Plants in Three Years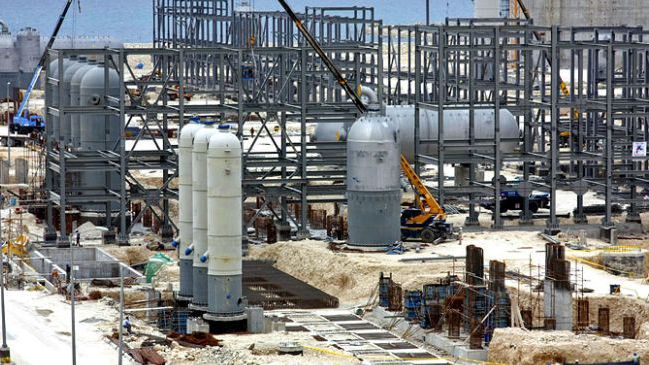 Iran says that it is preparing to bring five LNG plants online within the next three years, including one facility that is already more than halfway completed - but its Minister of Petroleum warns that by that point, it may not have the extra gas to liquefy.
National Iranian Gas Company (NIGC) CEO Hamidreza Araqi announced today that Iran LNG, the project nearest completion, should come online within a year and a half – if Iran can find an investor. It is expected to produce 10 million tons per annum (mpta).
Mr. Araqi said that several energy firms had expressed interest in Iran's LNG projects. German company Linde has discussed future investments in the sector once sanctions are lifted.
Repsol, Total, and Royal Dutch Shell had investments in three LNG plants before the imposition of nuclear sanctions in 2011. The sanctions banned the supply of technology like gas liquefaction equipment, stalling foreign involvement in construction.
In addition to resuming work on land-based facilities, the country is planning a partnership with Belgium's Exmar for the world's first functioning Floating Liquified Natural Gas (FLNG) barge.
"If the two sides show flexibility and technical and economic negotiations bear results, [the Belgian side] will bring FLNG facilities to the Kharg region in not a distant time and will begin producing LNG for the first time," said Minister of Petroleum Bijan Zangeneh on November 9.
To get its planned total of 40 mpta of LNG production to market, Iran has recently entered into contracts for LNG tankers and technology transfers. "A memorandum of understanding has been signed with a respectable German company which possesses the technology to build LNG tankers. Preliminary accords have also reached with several South Korean and Chinese firms," said Esmaeil Sadeqi, an Iranian project manager.
Iran's LNG sales strategy is focused on Europe; U.S. LNG firm Cheniere is also targeting the market, and says that it expects to send about 20 mpta of gas production to the continent, with first shipments in early 2016
Pipeline export capacity and domestic consumption are additional considerations for Iranian LNG.
Iran already exports about one fifth of its production to its neighbors by pipeline, and Mr. Araqi said that NIGC is in discussions to add more.
And while Iran is the world's fourth largest gas producer, it is also its fourth largest consumer, with rapidly growing residential usage.
Minister Zangeneh issued a warning on Tuesday that despite increases in gas production, Iran could become a net importer within a few years if domestic consumption continues to grow unchecked.